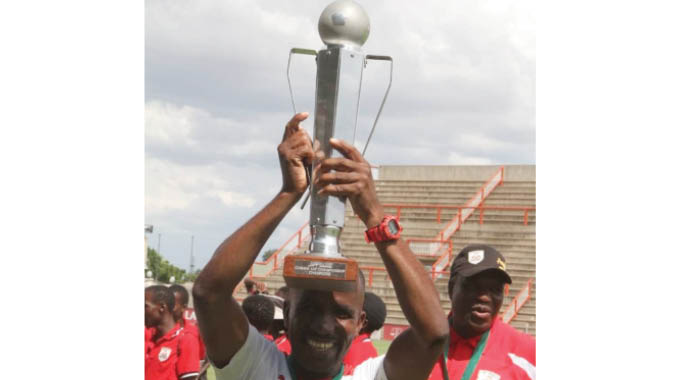 The Sunday News
Fungai Muderere, Senior Sports Reporter 
SOUTHERN Region Division One champions Bulawayo City were recently made to hoist the Cosafa Under-17 trophy in celebration in what has been deemed to be a damning public relations disaster for the country's football governing body.
The municipal side beat Talen Vision to the PSL ticket by six points after amassing 67 points from 28 games and questions are still being asked why the Andrew Tapela led Southern Region executive allow a Cosafa trophy to be presented to Amakhosi.
"To what extent was that a crime? To what extent did it damage the reputation of the national Under 17? Actually, courtesy of that many people remembered that Zimbabwe were once Cosafa Under-17 champions.
"Bulawayo City who were the recipients of that Cosafa trophy are not even complaining. Eventually, Bulawayo City are going to be presented with their real trophy that they will keep on their trophy cabinet for a long time," said Tapela.
 He added: "Two teams (Bulawayo City and Talen Vision) had chances to become the league's champions on that particular day. The real Southern Region Division One floating shield was won by Hwange in the previous season and when we went for our last round of matches the shield was still in Hwange. As such, it was prudent to display two trophies, one at the Bulawayo City versus Arenel match and the one at the Makomo versus Talen Vision match which was played in Hwange," said Tapela.
The explanation by the Southern Region leadership does not make sense because the team that had a great opportunity to win the championship on the last day was Bulawayo City, which meant that the shield should have been at Emagumeni. 
Meanwhile, Vision are still demanding that Zifa Southern Region grant them access to referees' match reports, as they suspect Bulawayo City and other teams of using suspended players in some games.
Last week, through their chief operating officer Brian Moyo, Talen Vision, who have requested the region to appoint an independent verification board to act on the matter, wrote to Zifa chief executive officer Joseph Mamutse saying:
"We have tried to request the region to appoint an independent verification board (or the disciplinary committee) to act on our matter but it seems the administrator of the whole board are compromised and trying by all means to cover up the matter as they are both acting as the judicial board and raising unnecessary technicalities to cover their possible misdeeds. 
As if that was not enough, Vision also asked the country's football motherbody not to provide the Premier Soccer League with a winner from the Southern Region until the matter is settled. 
Talen Vision are adamant that the files will show that Amakhosi used players who were meant to be on suspension for accumulating yellow cards. If City indeed flouted the rules of the game on their way to a quick return to the PSL, then they have to lose points for all the matches in which they used players who ought to have sat out.