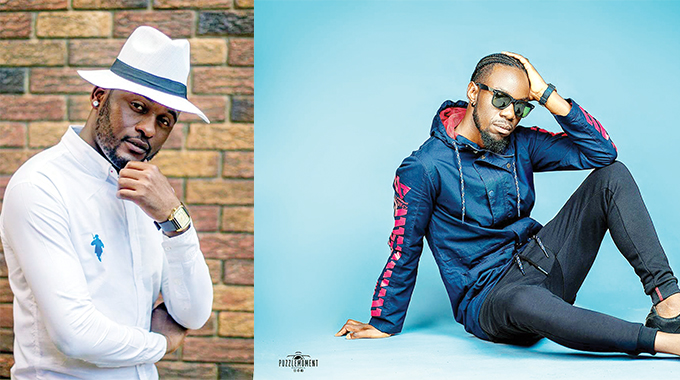 The Sunday News
Bruce Ndlovu, Sunday Life Reporter
IT was only just over a year ago that MKZ Bwilliganz and Mzoe7 were collaborating on a gospel song.
Titled, Mwari Vano Simudza (God can lift us), the title was the two young musician's homage to their maker, as their touched base with the religious that shaped who they are, despite the fact that they are both circular artistes.
That was back in 2018. It is 2020, the year of a global epidemic, and the duo are back again. Only this time, instead of singing about God, they are pouring their hearts about a shared love interest, one that cannot make her mind up about who she wants between the two crooners.
It is a soothing track that is accompanied by crisp visuals from one of Zimbabwe's best video makers, Andy Cutta. The cast in the video is A-list, led by models Ben Chest and Patie Nyathi. But it is MKZ and Mzoe7 who are show stealers, shining on yet another track as they showcase their versatility.
While Mzoe7 is now familiar enough to local audiences, MKZ is still largely a mystery. It is when he turns up in collaborations with the now seasoned Mzoe7 that the spotlight shines especially on him. The two, MKZ tells Sunday Life, have come a long way.
"This has been a long and fruitful relationship. We have worked together on a number of years and have countless collaborations together. In truth, he is more like a brother to me because even away from the music you will find us hanging out together. Our relationship outside the recording booth is as important as the one off it. It's rare in this industry that one can find a person that they can call a brother but I think with our relationship that is what we are at this moment in time. That camaraderie and closeness reflects every time we come together to make some music," he said.
Those who attend gigs in the city will bear testimony to the crowd pleasing, high energy sets the two engineer from time to time during live shows. This, MKZ says, is testament to the intimate relationship the two now share, five years after they started working together.
"Initially I did not think we would make the song a single but every time we would perform it during live shows, people would love it. The reception was always overwhelming and that's when I saw that we potentially had something great. I think all of this came from my tag team partnership with Mzoe which translates very well on stage. We feed off each other's energy on stage and that leaves an impression. It's the same kind of energy that we tried to replicate in the song and even in the video," he said.
Sung in a mixture of languages, the song also showcases the diversity of Zimbabwe.
"We wanted to show that we are united. In the song we even use different languages because both of us are multi-lingual. Besides the languages that are spoken by a majority of people like English, Ndebele or Shona, he can speak in Chewa and I can also do the same in Nyanja so it was perfect.
"The concept of the song is just me and Mzoe fighting for the same girl and then asking her what or who she wants between the two of us. We did the chorus and in the studio it was glorious. We composed our own verses separately but we knew that we had made magic," he said.
As his profile grows, MKZ also credits hip-hop veteran POY and sungura ace Aleck Macheso for giving him a leg up in showbiz.
"We've come a long way but there are people we need to thank for where we find ourselves now. For me personally, the one person who pushed me early in my career is POY. I think that he is one of the most underrated because he introduced a lot of us to the stage and when he did so, organising some shows, he was doing it at a personal expense to himself, putting his money into some initiatives.
"I would also like to say Macheso is also one of my inspirations because whenever he has performed, he has always given me a chance to also share the stage with him. That on its own has given me confidence to get on the stage on my own," he said.