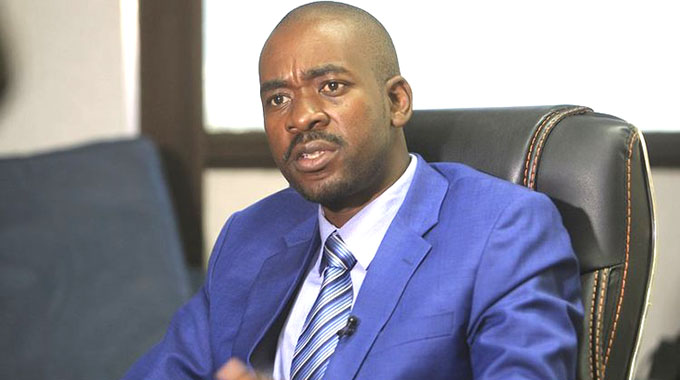 The Sunday News
Vusumuzi Dube, Zimpapers Elections Desk
THE Citizens Coalition for Change (CCC) continues to shoot itself in the foot after the party's manifesto has not only served to endorse projects that have already been implemented by the ruling Zanu-PF but has also been exposed as a classic case of theft of intellectual property.
Launched last Tuesday, by party leader Mr Nelson Chamisa in Bulawayo, the document dubbed; "The Great New Zimbabwe" has since been exposed for rubber stamping a number of milestone projects which have already been commissioned by the President Mnangagwa-led Second Republic.
The manifesto has generated significant attention and scrutiny due to its alleged overlap with projects already implemented by the Second Republic. Various analysts have accused the CCC of a lack of originality.
Posting on social media, former Higher Education Minister Professor Jonathan Moyo exposed the CCC for having plagiarised 56 percent of the document.
He accused Mr Chamisa and his close lieutenants, his spokesperson, Ms Fadzayi Mahere, deputy spokesperson, Mr Gift Siziva and Mr Amos Chibaya of throwing away a manifesto by Mr Tendai Biti and Mr Luke Tamborinyoka as Chamisa continues purge of the old guard.
"Interestingly, and tellingly, the stolen CCC manifesto also features the complicated five-level stack interchange, the High Five, in Dallas in the US, which Chamisa has previously peddled as emblematic of his own spaghetti ideas to hoodwink and mislead his fanatical followers, about what he says is his vision for Zimbabwe, based on stolen ideas.
"Chamisa threw away the Biti/Tamborinyika researched and drafted CCC manifesto, to make the point that he does not want thinkers in CCC, among his orbit of sycophantic associates, who have shown not to have independent opinions of their own," said Prof Moyo.
"By stealing a manifesto – after throwing away the one researched and drafted by Biti and Tamborinyika – and peddling it as CCC material; Chamisa and his CCC cohort of Fadzayi Mahere, Gift Ostallos Siziva and Amos Chibaya are proving to the public that they're intellectually bankrupt, anti-intellectual, with no ideas of their own; and hence they have no policies, no ideology, no values, no constitution and no structures; and they are by their own actions unfit to govern; notwithstanding the fanatical crowds that Chamisa, with his God Complex, attracts at rallies in a Jim Jones-style."
Political analyst, Mr Methuseli Moyo said the manifesto was a rushed document that Chamisa and his team had done half-heartedly.
"Reading through the manifesto, there is nothing groundbreaking really. They came up with one because someone had said they did not have one.
It is a manifesto for the sake of it. A manifesto, especially from an opposition party, must have tangible, new deliverables, as opposed to claiming that we can do what the current government is doing better than them. The CCC needed a solid manifesto or programme of action if it wanted to be the next government," said Mr Moyo.
Another analyst, Professor Nhamo Mhiripiri said the overlap of projects that have already been implemented by the Second Republic reflected gross incompetence on the part of the CCC leadership.
"By the mention of such projects that have already been commissioned like the Hwange units 7 and 8, it shows a lack of research and being up to date with things happening in your own country. It actually shows gross incompetence of the people who drafted it," said Prof Mhiripiri.
Legal expert Mr Sindiso Mazibisa said the CCC was proving to be aloof, accusing them of tabling an ill-researched manifesto, taking voters for granted by promising projects that were already implemented or being implemented.
"While we appreciate the democracy and plurality of the multi-party democracy that exists in Zimbabwe, which we appreciate as the gains of the liberation struggle, so that people may choose whom they want to lead them, is very commendable and we are happy that until now the Zimbabwean Government has been able to avail- after every five years- an opportunity for the people of Zimbabwe to choose a leader that they want.
"However, we do not appreciate people who want to use lies to hoodwink our people by promising them things that do not exist. Just look at the CCC manifesto they want to do projects that have already been implemented by the Second Republic," said Mr Mazibisa.
"It is not acceptable for people to brazenly lie and promise people things that are done because you suspect or know or think that the people you are talking to do not know the promises you are making have already been done and are being implemented. The opposition must be creative, have the people at heart and promise things that they can implement."
On water and sanitation, the manifesto curiously talks of the construction of the Gwayi-Shangani Dam, Kunzvi Dam and the construction of boreholes and water bodies in rural areas among other projects, which they claim to be "signature projects".
"Signature projects; the construction of boreholes and water bodies in rural areas and farming areas, the construction of Gwayi-Shangani water project, the construction of Sadza Dam and other rural dams defined in existing plans, the construction of Kunzvi Dam and the leveraging of existing water infrastructure in Zimbabwe such as Kunzvi, Osboure, Winimbi, Shamva, Mazowe, Tokwe Mukose and turn them into valuable recreational tourism assets on the scale of Lake Kariba," reads the manifesto.