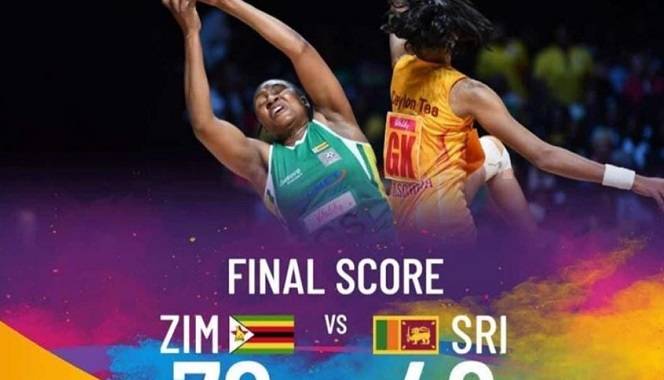 The Sunday News
Sports Reporters
ZIMBABWE's Gems today marked their debut at the Vitality Netball World Cup in style after seeing off the challenge of Sri Lanka 79-49 in their opening Group A assignment at M&S Arena in Liverpool, England.
Australia-based shooter Joyce Takaidza was the toast of the day leading from the front with a fantastic performance in which she spiced by scoring 59 out of the 62 attempts she made.
Her goal turn translated to a 95 percent success rate and she was duly named Player of the Match. The Gems put the foot on the pedal in the final quarter scoring 26 goals against Sri Lanka's seven to record an historic maiden World Cup win.
Zimbabwe had gone into half-time comfortably leading 38-29 after consolidating their early 19-13 lead the end of the first quarter. The Gems then acquitted themselves well to cut off supply for Sri Lanka's major investment and the tournament's tallest player Tharjini Sivalingam.
Zimbabwe, however, briefly lost their concentration in the first quarter, allowing their opponents to reduce the margin. But once they regained composure, Sharleen Makusha capitalised on her vertical up to give less to the agile Sivalingam a tough time and from then the Gems seized the initiative.
Midway through the third stanza Zimbabwe lost Makusha to injury after she was hit in the face by Sivalingam when going for a long high pass. The 21-year-old Makusha was replaced by Rudo Karume as Zimbabwe extended their lead to go into the final quarter leading 53-42.
Zimbabwe coach, Lloyd Makunde, said despite making their maiden appearance, he had faith on his charges.
"We always counted on our mid court so it really worked just by the book. We also had a lot of turn-overs and it was very crucial because to win a game of netball, you need to make sure that all the turn-overs are put to goals," he said.
Zimbabwe now brace for the challenge of tournament favourites Australia tomorrow morning and Makunde wants his charges to polish their defence and capitalise on transition.
Player of the Match Takaidza said their presence at the global showpiece was an honour for the team.
"To be here alone was a dream come true for everyone on my team. I have played netball for the past 23 years but we have never reached this far. Even the connection for Zimbabwe as a team and as a nation, is just something so good," she said.
Takaidza is optimistic the team will proceed to the quarter finals.