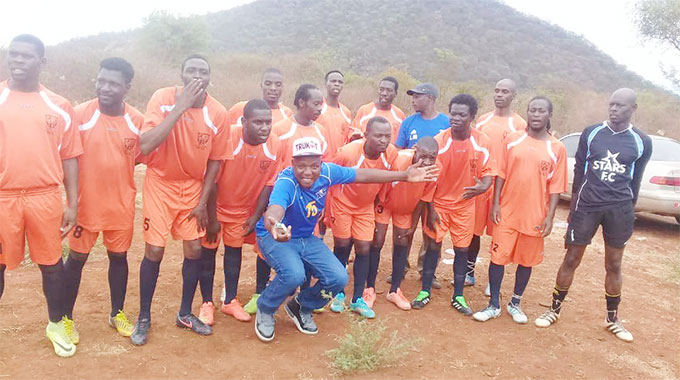 The Sunday News
Mandla Moyo, Sports Reporter
REIGNING Bulawayo Social Soccer League champions Stars FC are set to descend on New Lobengula for a battle against Tigers this morning.
The match resembles a battle between David against Goliath looking at how they both sit on the table.
Besides winning the league trophy last year the visitors are the current log leaders, a position they are now accustomed to after landing there some months ago while their hosts are number seven. They have displayed their stubbornness on the field of play by remaining glued to that spot for several months now since the season started.
Though they are two points away from the second-placed team it has proved a mammoth task to elbow them off the apex of the table. Interestingly the second slot has changed hands a number of times during this marathon race, for that reason they remain the team to beat. 
Followers of social soccer are anxious to see the Stars juggernaut in action against this lightweight side. A point dropped by Stars in this encounter against a win by second-placed Mthala will result in the former moving one step up the ladder to the top.
Elsewhere it will be a derby when 94 Strivers take on their neighbours Fireworks at TM ground in Cowdray Park. Not much resistance is expected from Strivers though derbies can go either way in a game of football.  In their last home game a few weeks ago after cruising to a 2-0 lead against Legends, Strivers fizzled out in the second half handing the initiative to Legends who had the last laugh when they won 3-2 in a tightly contested, exciting match.
Fixtures 
Today 
Pool A:  Bullets v Zulu Chiefs (Magwegwe High), Glenkara v Iminyela (Somhlolo, Nkulumane), Santos v Makwee(Mazai , Makokoba), Khami v Pirates (Khami),Strivers v Fireworks (TM Cowdray Park), Man United v Edgars (Tshabalala Ext),Vule Vale v 70 Comb(Magwegwe West), Tigers v Stars (New Lobengula), Brotherhood v CreamTata (Desert, Njube), Old timers v Cowdray Masters (Pumula North),Legends v Funda (Emganwini), Ndola v Congo (Ndola number one), Mthala v Patapata (Old Pumula).
 Pool B: R/Magwegwe v P/Crackers (Magwegwe High), West Com v  Shwelele (Nduba Pry, Pelandaba), Mayihlome v Bombers (Inyathi, Mpopoma), Pioneer v Nkulumane (Matshobana), Sinyoka v Celtics (Emarorini, Pumula South), Siyabangena v Njube (Phekiwe, Nkulumane 12), Zinwa v Matshobana (Mambo, Tshabalala), Real Shwelele v Finance (Mazai, Makokoba), Pelandaba v NJC (Pelandaba), Lobels v Gwabalanda (Matshobana), Mabutweni v Zobha (Insukamini,  Njube), Zonke v Wembley (Esporweni, Entumbane), H/ Valley v Skippers (Mazai , Makokoba).
@mandlamoyo3