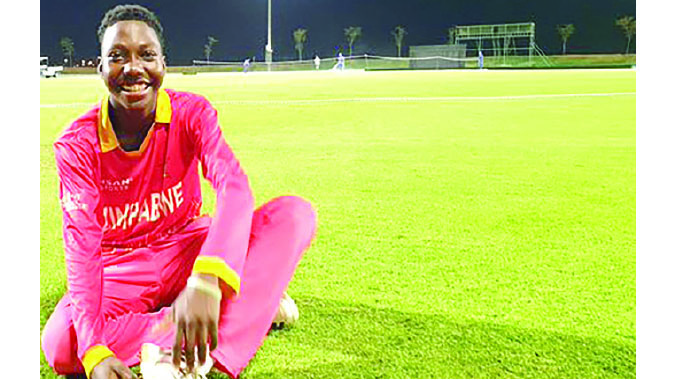 The Sunday News
Mehluli Sibanda, Sports Editor 
FOR all their success in international cricket, the Zimbabwe's women's cricket team is yet to appear in a World Cup, something captain Mary-Anne Musonda hopes to change when they head into battle in the 2022 ICC Women's T20 World Cup Qualifier which gets underway in Abu Dhabi, United Arab Emirates today.
Zimbabwe face Papua New Guinea in their opening match at the Tolerance Oval, with their next match being tomorrow when they clash with Thailand with the Lady Chevrons rounding off their group fixtures against the UAE on Wednesday. The top two teams from the qualifier tournament will progress to the 2023 ICC Women's T20 World Cup in South Africa.
"One of the objectives of our team is to qualify for the World Cup and yet to go to the World Cup, that would be a record broken for women's cricket in Zimbabwe. Each time we come for these tournaments, we feel like we have an opportunity to break that record so it means a lot, not every day do we get the opportunity to of facing other teams or being in a stage that is closer to going to the World Cup so we know what's at stake and we are battle ready,'' declared Musonda yesterday. 
Ahead of the qualifier, Musonda spoke of the great enthusiasm in her camp ahead of the qualifier. 
"The mood has been good, I think our preparations have helped to give us confidence starting the qualifier tomorrow." 
Zimbabwe had a great opportunity of qualifying for the 2020 ICC Women's T20 World Cup held in Australia after they sealed their spot at the 2019 ICC Women's World Twenty20 Qualifier in Scotland. There was heartbreak for the Lady Chevrons after they lost out on travelling to Scotland following the country's suspension by the ICC, which saw Namibia take up Zimbabwe's spot. 
Zimbabwe are favourites to win the qualifier together with Bangladesh but Musonda says they are not focusing on that 
"It's pretty cool that we are one of the favourites in the tournament together with Bangladesh but we are really not focusing on all that, we just focusing on our game, our level of preparedness.
We just want to show up in every game we going to play and play every ball and play every game to enjoy, applying ourselves and going through our processes, everyone managing their own space. We believe that way the result will take care of take care of itself,'' the skipper said.
On what will be crucial for them if they are to win the qualifier, Musonda stated: "Key for us would be mainly being able to play spin having options because I see most of the teams are loaded with spinners so being able to manipulate spin when it comes to the batting and also being able to bowl spin and always hitting our lengths and always grouping our ball and being disciplined as well, taking all our chances." 
Zimbabwe will play some of the matches in the qualifier under floodlights, something they are not accustomed to. They did play under lights in the warm up match against Scotland which they won by nine runs on Friday at the Tolerance Oval. 
"It's the first time for most of us playing under floodlights and the game last night against Scotland was an eye opener, not a lot of difference but just trying to adjust to especially fielding, once a ball goes in the air you have to adjust the lights sometimes they are too bright in your eyes but we managed really well yesterday and the day before when we had that training in the evening,'' Musonda said. 
Left arm spinner Kelis Ndlovu picked up six wickets for 16 in four overs, Scotland all out for 85 runs in 18 overs. This was after Zimbabwe were wiped out for 94 in 19.2 overs.  -@Mdawini_29