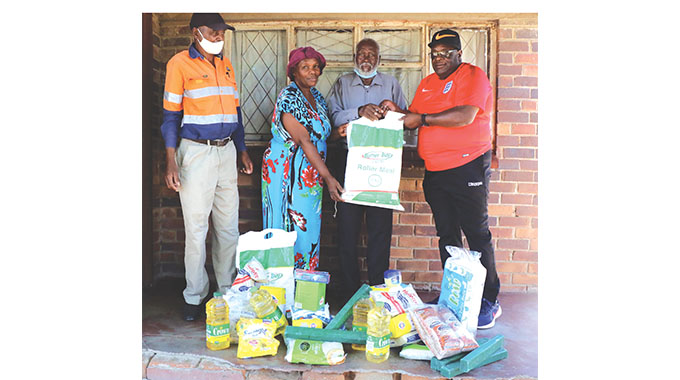 The Sunday News
Sunday News Correspondent
ONE of the first people to fire bullets during the armed struggle, Cde Moffat Hadebe has urged Zimbabweans to jealously guard the gains of the armed struggle.
Cde Hadebe, who was one of the pioneers of the armed struggle under Zipra said it was up to the young generation to carry the torch and play a huge role in the country's economic emancipation.
Speaking during a brief handover of groceries to him by Bulawayo businessman, Dr Nicholas Masuku at his Magwegwe North home last week, Cde Hadebe (84) exhibited a sharp memory as he recalled the day, he fired the first shot during the war on 27 September 1964.
"The history is there for all to see. You can go to the archives at the Chronicle or Bulawayo City Council library at City Hall, the information about my battles are there including the Sipolilo battle. We fought during our time, it is now a different battle that has to be fought and young people should take on the fight," he said.
Dr Masuku urged business people based in the city to come together and set up a fund that will assist struggling pioneers of the liberation struggle.
"I wish business people in Bulawayo would come together and create a fund that will go towards providing for the pioneers of the armed struggle. We don't want to see them become destitute as they did a huge job in liberating the country from the yoke of colonialism. It is critical we show them love now when they are still alive rather than flocking to Heroes Acres and celebrate them when they are dead when they would have been hungry and struggling with medical bills," he said.
Cde Hadebe received groceries worth $13 000 making him the third war veteran to benefit from a programme initiated by Cdes Jabulani Sibasa, Nkosilamandla Mkhwananzi and Saviours Moyo.
Cde Mkhwananzi was present at the handover along with Zimbabwe National Liberation War Veterans Association Bulawayo Province Deputy Security Officer Cde Mvelele Ndlovu.
Meanwhile, Dr Masuku has been rewarded for his efforts in assisting war veterans, among other philanthropic works, with the International Institute of Philanthropy, IIP conferring him with an Honorary Doctorate of Humane Letters (DHL) while the International Women's University conferred him with an Honorary Doctor of Business Leadership and Entrepreneurship, Hon. DBLE. He expressed joy at being honoured and said the recognition will spur him to work on with others and come up with more initiatives.
"For me, this is an impetus to do more and from my conversation with IIP officials, I believe it's time to create an entity that will coordinate philanthropic activities and ensure it grows wider," he said.