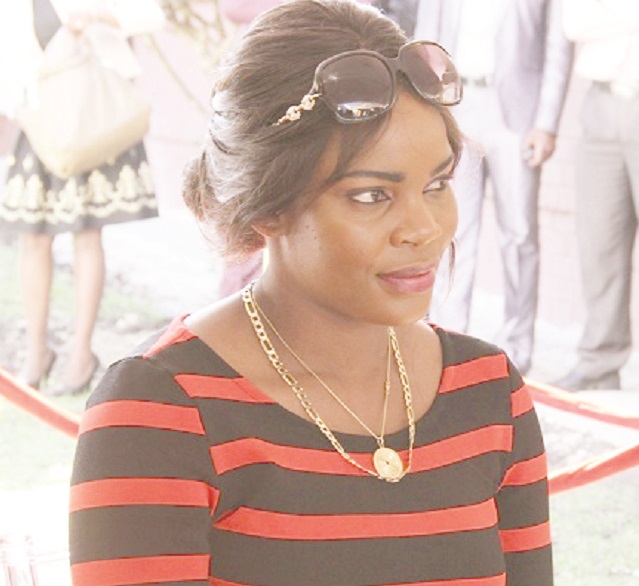 The Sunday News
SHE is no stranger to publicity and has remained committed to doing what she knows best with a sense of humility and unequalled determination, much to the satisfaction of her conviction.
Mary Chiwenga has perhaps been in the news more than her husband General (Rtd) Constantino Chiwenga before he got into the thick of national politics as the Vice-President of the country and yet she has managed with so much ease to keep her cool.
Sunday Life Correspondent Bekezela Tshuma caught up with Mary and discussed with her  on her role in promoting the modelling industry and many more projects that she has been running.
BT: At the inception of the new political dispensation, you became a person of interest to Zimbabweans, as the wife of the Vice-President, Gen Chiwenga. Can you tell us about yourself in a few words?
MC: Cool, calm and collected. I believe that I am increasingly spiritual, I am a great wife and mother, a sensitive person, down to earth and a people's person. Kindness knows no position. I think I have always been a person of interest even before being the Vice-President's wife, I am no stranger to fame, neither am I a stranger to criticism. I take constructive criticism with kindness and I keep away from searching myself on the Internet and social media.
BT: It was a great leap, from being a model to the wife of a General who is now Vice-President. How has the adjustment been for you?
MC: Successive transformations are not rare if God has anything to do with it. From early childhood, I have been a firm believer in the celebration of the woman as a symbol of beauty, affection and love; as the womb, the back and breast that conceives, carries, raises and nourishes life respectively. My involvement in beauty pageants stems from the desire to celebrate womanhood. It means to me that there is a world-view and philosophy to the institution of pageants, beyond simple cat-walking that many see. Grooming and etiquette isn't as easy as it seems, it takes months of hard work, commitment and dedication, my head and my heart were in the same place. It is because of this belief that I have always maintained that pageants must go beyond physical beauty of the woman to encompass the beauty of morals, the beauty of the heart and the beauty of the family as the foundational home for us humans.
True, I married a loving man who has been on the cutting edge of history, both before and after independence, but to me he remains an affectionate, lifelong partner, a simple husband and a dear father to our children. Likewise, I remain a simple woman who is in deep love, and fortunate enough to be in a stable marriage, indeed a mother whose main duty and focus is the home firstly, my immediate community and of-course my country. Home in the sense of the Chiwenga home, but also home in the broader sense of the national family of Zimbabwe, which is where the issue of Musha Mukadzi Charitable Foundation comes in. For a community worker, the issue of adjusting to a public role comes as easily as water does to a duck.
The key thing is not adjusting; rather it is to enact and fulfil that role in ways that impact positively on our nation. Therein lies the test for me. I also had a very good role model in my mother, Helga Mubaiwa who did a Community Development Degree, no lesson from her was unnecessary and I thank her for being a big part of this life that I live.
BT: Can you tell us more about your brainchild, Musha Mukadzi which hosted a successful event graced by the President recently?
MC: Musha Mukadzi Charitable Foundation is a six-year-old child whose philosophy and vision is summed up in its name.
The foundation asserts the centrality of the mother-figure in the home: as bearer and keeper of life, above all as a key stabiliser of the home. In making that assertion, I am noting an age-old philosophy developed by our forefathers which has guided families and communities across generations. Again in making that assertion, I am guided by the great book which stresses the role of the woman, starting with the mother of Jesus. I am drawing attention to a moral position without which we would perish as a nation.
It is thus a call to duty for the mother-figure in our nation. At the core of Musha Mukadzi Charitable Foundation is love and care: for husband, for children, for family, for community, for nation, always mindful of the less privileged in our midst who need that helping hand. The mother must ensure the home is a place of love, comfort and nourishment. At the core of Musha Mukadzi Charitable Foundation is a recognition that in the mother-figure is the first school whose brick and walls are the love and morals that build good character. In that sense, it is the first institution of socialising the child, thus making it foundational. We get that building block; we place our home, community and nation on a solid plinth.
Lately, we have decided as the Musha Mukadzi Charitable Foundation executive to place the foundation under the capable hands of the First Lady and Amaiguru vangu Auxilia Mnangagwa's Angel of Hope Foundation. The reasoning is simple: we the founders of both foundations are sisters; secondly we are both mothers who come from and value the institution of the family; thirdly, the two foundations converge both philosophically and by way of their calling. It was therefore important for us to harmonise ourselves organisationally and operationally. That way, we are able to be more effective in the double sense of mobilising resources and deploying them effectively. We are beginning to see the fruits of that converged approach, with our recent foray into the Doma community being an example. The weekend event which was graced by His Excellency the President — for me Babamukuru Mnangagwa announced the convergence and approval I have alluded to. Hard on the heels of that event was a dinner hosted by Angel of Hope Foundation at State House which both my husband and I attended. That is how we work: in harmonised complementaries.
BT: What inspires your fashion sense as a former model and now the wife of the Vice-President of Zimbabwe?
MC: Being a former model helped me to develop an elegant, tailored look that is my own. I love the way I feel and I like to feel the way I love, I love clothes, and they are a personal passion and a requirement for my person. There are some who read a fashion statement in the way I dress, that may be so for them, for me, it is about being presentable and feeling great about myself, making sure in the same vein that my husband is happy with the way I am dressed. He is the centre of my attraction and the dress that makes him happy on a particular day and occasion is what I put on.
BT: Do you have any political ambition of your own outside the role of the wife of the Vice-President?
MC: I have no political ambitions at all, far from it.
BT: What are your interests, in other words what drives you?
MC: What keeps me going is fulfilling my role as a wife, mother and carer. Of-course, outside those roles, I am a businessperson. I like to drive myself, so I am not driven, I like music especially golden oldies and local music, namely music by Alick Macheso and Jah Prayzah. And when music takes hold, I express it through dancing. I also read a lot, both light and heavy, reading to ensure I remain current, I am not really a TV person.
BT: You have been heavily involved in the organisation of the Miss Zimbabwe pageant in the past. Is this the case this year?
MC: I stepped down as national chairperson of the Miss Zimbabwe Trust early this year and left it to the executive to take charge, if they ask for my advice I will be more than happy to give it. I can never completely divorce myself from the pageant as I am the licence holder for Zimbabwe with the Miss World Organisation and also my mentor Kiki Divaris whom I loved very much entrusted me with the task of making sure it is hosted in a beautiful setting. A great woman we lost.
BT: What are your hobbies? What does Mrs Chiwenga do when she is away from the spotlight?
MC: Oh, Mrs Chiwenga is very laid back, from home to work and work to home. I don't have much of a social life, I like it that way, no friends, just family. I also go to the farm with my husband and children when time allows.