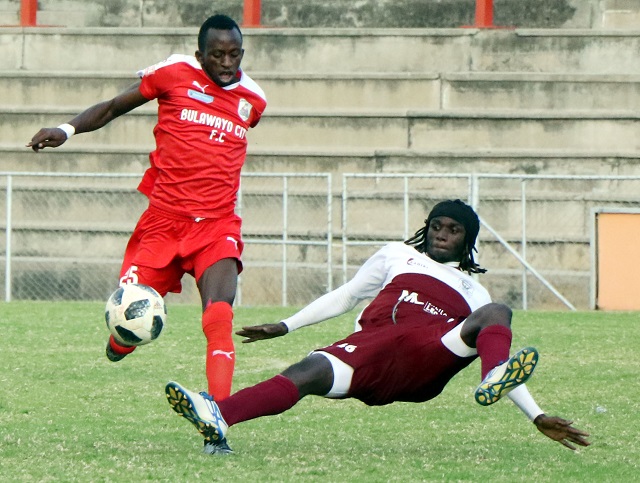 The Sunday News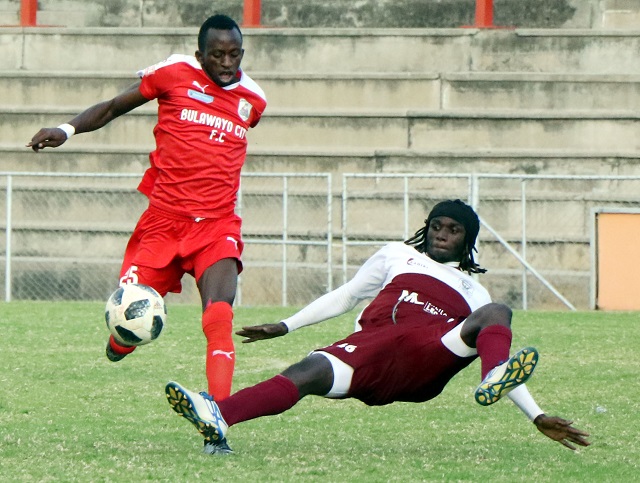 Ngqwele Dube, Sports Correspondent
Bulawayo City FC . . . . . . . . . . . . . . . . . . . . . . . . . . . . (1) 2
Shabanie Mine FC . . . . . . . . . . . . . . . . . . . . . . . . . . . .(0) 0

NEW Bulawayo City coach, Amini Soma-Phiri began his tenure at the club on a positive note, collecting maximum points against 10-men Shabanie in a Castle Lager Premier Soccer League tie at Barbourfields Stadium yesterday.
Goals on either side of the break from Sipho Ndlovu and Toto Banda assured Soma-Phiri kicks off his stint on a winning note. Shabanie finished the game with 10-men after Ali Maliselo was sent off after he received two yellow cards.
The former Highlanders coach and player, however, did not waste time celebrating the win saying they are now focusing on the next match against trailblazing Ngezi Platinum Stars.
The home side had the luxury of missing a penalty after Washington Kahuni brought down Ishmael Wadi inside the box as Amakhosi were piling on the pressure in the 12th minute but Wadi hit the upright with the ball ricocheting back into play.
It was Wadi's second penalty miss this season after he failed to convert a spot kick against Dynamos in a game they eventually lost.
Maliselo got his marching orders three minutes from the break when he was cautioned for a second bookable offence by referee, Pilan Ncube in the 42nd minute.
The visitors came from the breather more purposeful, eagerly searching for the equaliser but it was City who got their second five minutes into the second half from Banda.
Shabanie received a corner kick which was cleared by City and the clearance found Wadi in the centre circle and he dribbled past an opponent and raced with the ball before setting up Banda who easily beat Zulu to cement City's lead.
Soma-Phiri praised his charges for playing well saying the boys could have responded positively to his philosophy of keeping the ball adding they could have won by more goals had his charges been more accurate in front of goal.
"It is very good that I got a win on my first day. I have always told you guys I am a winner and this is the philosophy we are adopting.
"I think the main reason they were not winning is that there was no cohesion, I just encouraged them to play as a unit and my philosophy is that we play the ball and I believe they stuck to that. I am now focusing on the next match against Ngezi, we played well so I cannot say much about today's game," he said.
Shabanie Mine's coach, Takesure Chiragwi blamed poor travelling arrangements that saw them leave Zvishavane yesterday morning, saying he could not expect his charges to give a peak performance with such preparations.
"I cannot blame anyone for the loss I wholly accept it but it is difficult for the boys to perform well when we do not prepare well.
"While the buck stops with me as the coach, there are other factors that come into play which we have to make sure we take care of being they have a bearing on how the players do," he said, adding it was difficult motivating players at the financially troubled side.
Teams
Bulawayo City: T Ndoro, Z Ngodzo, Z Sibanda, I Wadi, E Mudzingwa, S Ndlovu, H Ncube, R Pavari (I Kutsanzira 80 mins), C Rupiya (N Ndlovu 71 mins), A Ncube (T Tavengwa 67 mins), T Banda.
Shabanie Mine: L Zulu, L Manyande, N Mpofu, W Kahuni, A Maliselo, T Chigade, J Nyabinde, T Ajana (C Rusere 78 mins), F Muza (K Dhlamini 65 mins).