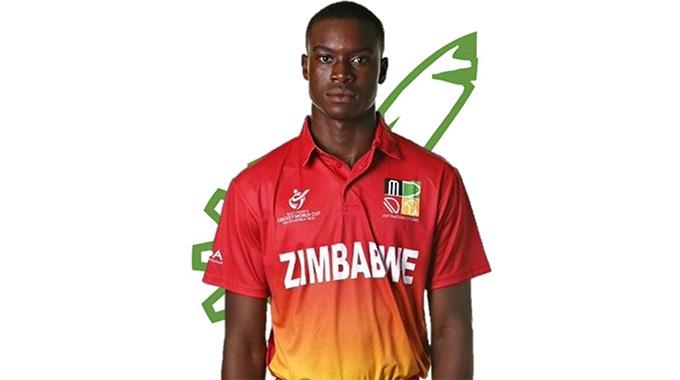 The Sunday News
Mehluli Sibanda, Senior Sports Reporter
AT the 2020 International Cricket Council Under-19 Cricket World Cup held in South Africa Emmanuel Bawa, then aged 16, became only the fourth Zimbabwean player to score a century at the Under-19 World Cup.
Bawa came in to bat at number seven in the Plate quarter-final against Canada in Potchefstroom and finished on 105 runs not out off 95 balls. His unbeaten stand of 130 runs with Gareth Chirawu, the second highest run scorer with 54 saw Zimbabwe post a competitive 271/7 in 50 overs.
Zimbabwe went on to floor Canada by 95 runs to progress to the Plate semis, with Bawa walking away with the Man of the Match.
Defeat to England relegated Zimbabwe to a fight for 11th place which they secured with victory by 172 runs over Scotland in Kimberly.
At the end of the tournament, Bawa finished with 232 runs at an average of 58 and was the eighth highest leading run scorer, with another Zimbabwean, Tadiwanashe Marumani fourth on 257 runs.
Bawa's hundred against Canada saw him join Mark Vermuelen, Brendan Taylor and Malcolm Lake as the only Zimbabweans to notch up centuries at the youth global cricket tournament.
Taylor scored two centuries, one at the 2002 event in New Zealand and another at the 2004 tournament staged in Bangladesh.
As the only survivor from the team that went to South Africa, Bawa has been handed the task of leading the Prosper Utseya coached Zimbabwean lads at this year's tournament taking place in the West Indies. United Kingdom based Bawa described it as a dream to be named the country's captain.
"Getting the chance to represent my country is always an honour and privilege so captaining the squad is an unreal experience.  I don't feel the need to put myself under pressure because it's a team sport and all the players in this team deserve and are good enough to be here so the expectations that come from outside are all canceled out,'' Bawa remarked.
Bawa has an opportunity to score another century or even more at this year's tournament, where Zimbabwe will square off against Afghanistan, Papua New Guinea and Pakistan in Group C.
"Obviously getting a century would be amazing, but doing what I can to put the team in a winning position is the goal at the moment so if that comes with 100s that would be fantastic."
Finishing 11th at the last tournament ensured that Zimbabwe avoided going through the qualifiers as they qualified automatically. Bawa's desire is for Zimbabwe to go as far as possible in the tournament.
"As a team, we want to take one game at a time so we're looking to go as deep in the tournament as possible.
Bawa, who was at Saint George's College in Harare is now on a cricket scholarship at Eastbourne College in England.
It is the same school where Tawanda Muyeye, a former Zimbabwe junior cricketer who now set his eyes on representing Zimbabwe was having moved from Peterhouse in Marondera. Bawa feels that his game has vastly improved at Eastbourne as he has access to top notch coaches and facilities.
"I do think it's improved my cricket with the world class coaches and facilities, I think it has exposed me to different challenges and an experience I can use after school in the professional word,'' said Bawa.
While at the last tournament Bawa batted in the middle order, he has moved up now into the top order with more responsibility.
The Zimbabwean lads, who played Ireland in four 50 over matches in Barbados continue with their preparations when they face Canada in St Kitts and Nevis today before they collide with Bangladesh in yet another warm up match on Tuesday.
On Wednesday, Zimbabwe find their way to Trinidad and Tobago where they are playing all their group matches. – Follow on Twitter @Mdawini_29