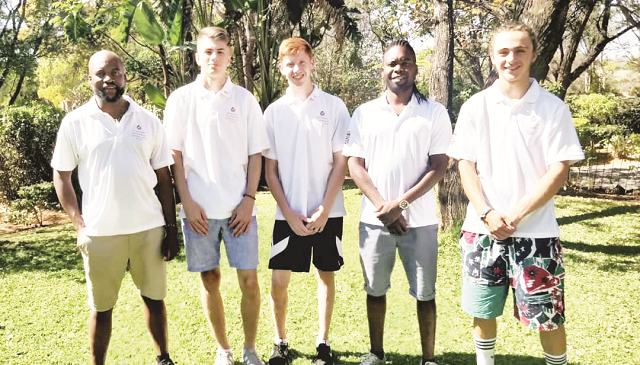 The Sunday News
Mehluli Sibanda, Senior Sports Reporter
THREE British students are in the country for some charity work, which will see them attend the Dumisani Foundation Under-15 Football League finals at Mtshabezi High School on Friday.
Alfie Love (16), Regan Boyle (17) and Matthew Jones (17), all from Basingstoke arrived in the country on Sunday and will leave next week. The three, who are all former students of United Kingdom-based teacher Dumisani "Zifa" Ndlovu will carry out some charity work in Bulawayo and Mtshabezi.
Speaking to this publication last Thursday, the trio, who are in Africa for the first time expressed delight with being in Zimbabwe which they described as a great country. Love said he is looking forward to the tournament final in Mtshabezi.
"It feels great, its beautiful here, love it, we are doing some charity work with Dumi with the football charity so we running the tournament next week, we are excited to go. We are enjoying here, the food is good,'' Love said.
Ndlovu indicated that all was geared up for the finals of the tournament which is in its fourth year. He is in the country with his young brother Nkosiyazi Moyo who is the owner of Souvlaki Restaurant and Bar which sponsors trophies for the tournament. Another UK-based Zimbabwean businessman, Nkosinathi Zvimba the proprietor of Ezimtech is the other bankroller of the Dumisani Foundation.
"The three students that have come from the United Kingdom are going to share their stories, share their narratives, do some workshops and things like that. This is the way we want to engage young people in this country,'' Ndlovu said.

So far, the three teenagers have visited some tourist attractions around Bulawayo and today they head off to Victoria Falls before they travel to Mtshabezi on Wednesday. Moyo said his involvement with the Dumisani Foundation was as a sponsor as he gets to assist financially whenever required.
"I sponsor the trophies and travels, especially now with the students that came to this country from the other side of Leeds in Hampshire in Basingstoke with Dumi and a few things that the charity would ask myself to do in terms of sponsoring them I also generously sponsor,'' Moyo said.
On Friday, Mtshabezi will clash with Entumbane in the boys' final while the third play playoff will feature Gifford and Milton.
Entumbane and Mtshabezi girls will clash in the only girls' match on the day while some old timers based locally will take on those domiciled in the United Kingdom in a social match. In last year's final played at Milton High School, Mtshabezi defeated Milton 5-4 on penalties after the match had ended 0-0 in normal time.
Gifford, winners of the tournament in 2015 and 2016 took third spot in a round robin which involved Entumbane and Donkwe-Donkwe of Kezi.
Dlamini from Tsholotsho, who were meant to be part of the round robin to determine the third placed team, did not turn up.
Full playing kits are in store for the two finalists with Ndlovu giving indications that uniforms for the other teams were also on their way.