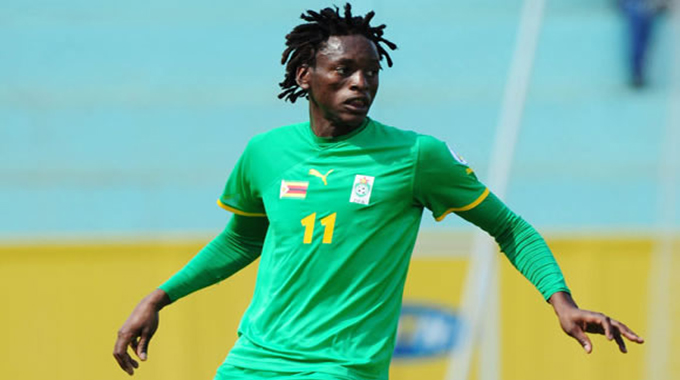 The Sunday News
Sports Reporter 
PLAYING on the hallowed turf of Orlando Stadium, where South African titans Orlando Pirates and Kaizer Chiefs have had many famous blood and thunder encounters, is many a soccer star's ambition. 
However, FC Platinum's Charles Sibanda's past misdemeanours put paid to his hopes of realising his dream after it emerged that he is allegedly a "persona non grata" in South Africa. Sibanda's past came back to haunt him when Norman Mapeza's mentored FC Platinum made the journey to Mzansi for a Total Africa Caf Champions League date with the Buccaneers after it was revealed that he would not be allowed to pass through Oliver Tambo International Airport as he had allegedly broken South Africa's immigration laws in the past by staying in the "Rainbow Nation" beyond the days stipulated on his passport.
FC Platinum media liaison officer Chido Chizondo could neither deny nor confirm the development saying Sibanda was better placed to comment on the issue. 
"As far as we were concerned Sibanda was not in the coach's plans. However, let the player comment on the allegation. We think it's more of a personal issue that we should not commit to as a club," said Chizondo. 
Better known as Dikela, Sibanda, who featured in Pure Platinum Play's last Caf Champions League group match against Esperance last Saturday at Barbourfields Stadium as a second half substitute, was not immediately available for a comment. 
He is however, not new to controversy. In 2011, the then Zimbabwe Reigning Soccer Star of the Year was fined         US$1 000 and served with a two match suspension for assaulting and pouring urine on the late former national team striker Adam "Adamski" Ndlovu who was Chicken Inn assistant coach. The FC Platinum player was found guilty of flouting Premier Soccer League (PSL) rules and regulations when he appeared before the league's disciplinary panel consisting of Harare lawyer, Don Moyo, Vusa Vuma (lawyer) and Brighton Mudzamiri (a retired referee and serving police officer) on 22 September 2011. Sibanda had assaulted the late Ndlovu during a league match at Luveve Stadium in Bulawayo on 27 August 2011. 
Three year later, while turning out for Bulawayo giants Highlanders, the ex-Warriors, Motor Action, How Mine and Hwange midfielder exhibited a questionable behaviour in the 0-1 loss to Chicken Inn at Hartsfield Stadium Sibanda went straight to the dressing room after being substituted in the 53rd minute for Knox Mutizwa who was also then with Bosso. In early 2016, Zambian coach, Kelvin Kaindu, during his tenure at the now defunct How Mine, was compelled to drop Sibanda from his squad that took part in a four team Bulawayo Football Festival tournament, after the Entumbane bred footie star skipped a training session.