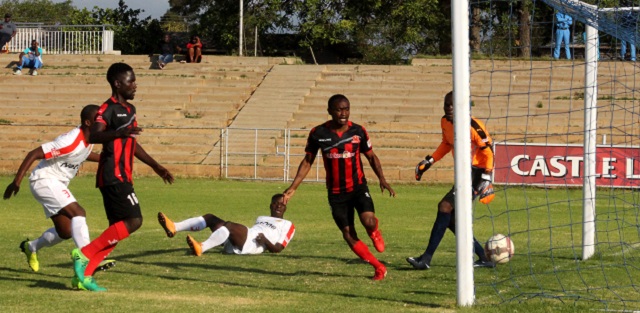 The Sunday News
Fungai Muderere, Senior Sports Reporter
Chicken Inn  . . . . . . . . . . . . . . . . . . . 0) 1
Black Rhinos . . . . . . . . . . . . . . . . . .(1) 1
AN out of sorts Chicken Inn were held to a draw by Black Rhinos in a colourless Castle League Premier Soccer League match played at Luveve Stadium yesterday.
Black Rhinos took the lead with 32 minutes played following a good build up that involved in-form duo of Tafadzwa Jaravani and Wellington Taderera, the former coolly controlled with his chest an Augustie Mbara cross.
With a goalkeeper to beat, Jaravani connected a half volley to the back of the nets.
Thereafter, the Gamecocks began to ask a lot of questions from Rhinos defence only to be alluded by lady luck.
It was only after the second half introduction of Moses Majika that the Simbisa sponsored side regained its breathtaking performance, a development that saw the nimble footed attacking forward flight an inviting cross that was pushed over the line by veteran Clemence Matawu in 70th minute for the equaliser.
With two games to go before the end of the 2018 season, it was however, a result that never pleased the Chicken Inn hierarchy.
"It was a draw but we never played as a team. We never played like we usually train. With two games to go we are supposed to rise up and consider taking all the crucial points," said Gamecocks assistant coach Prince Matore.
His opposite number, Hebert Maruwa was feeling on top of the world.
"The fact that we got four points from Chicken Inn this season means a lot about us. We had a very good game and I'm happy we posted a very positive result against a very big club under a respected coach," said Maruwa.
After the draw, the Gamecocks are still third with 55 points while the soldiers moved to 43 and are still ninth.
@FungaiMuderere