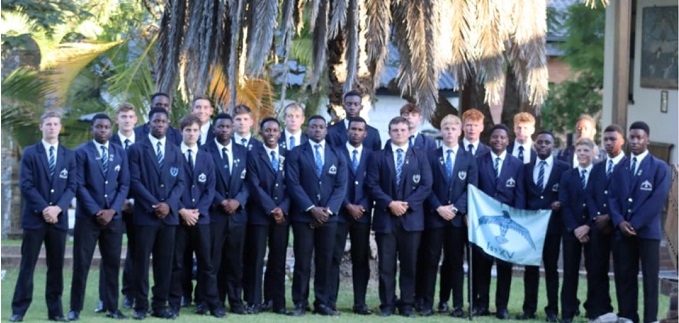 The Sunday News
Brandon Moyo, Sports Reporter
FALCON College's rugby first team has left the country for Namibia where they will play against schools from the host country and one from South Africa.
The Derek Kwayedza Chiwara coached Mad Dogs left Zimbabwe yesterday for their adventure which is part of their winter sports programme. They will be under the captaincy of Huntsman Greaves who was announced last week alongside four others for different sporting codes.
"Wishing our first Team Rugby Boys all the very best as they head to Namibia today (yesterday). They have shown dedication and determination to reach this level and to gain selection to the Touring Squad. They have our full support as they carry our flag and our hopes into new territories.  We look forward to their safe return with new memories, experiences, and victories," posted Falcon on their Facebook page.
The tour will provide the team with exposure to different conditions and teams and will come in handy in their betterment. The travelling team is made up of 25 players and they are set to play three games starting tomorrow and finishing on Saturday.
In the opening match tomorrow, they will be up against Walvis Bay Private School from Namibia before going on to face Hoeskool Zwartkop from South Africa on the following day and close off their tour against Tsumeb Gimnasium from Namibia on Saturday.
The first match will be played at 1700hrs while the second one will start at 1530hrs and the final one will commence at 1330hrs. Live updates of the matches will be available on the respective schools' websites.
Falcon team in Namibia: Huntsman Greaves (captain), Tatenda Runyowa, Vuyani Ncube, Mandlenkosi Mpande, Renatho Ndou, Dominic McKechnie, Scott Wenham, Paida Denhere, James Thompson, Josh Littlewood, Mzimazisi Mabaso, Tristan Burton, Sonny Brebner, Lian Batchelor, Matthew Kendall, Ethan Fouche, Thabani Ndlovu, Brad Christensen, Anesu Mawere, Tafadzwa Tigere, Ralph Tekede, Ryan Stevawo, Tawanda Chisungo, David Clegg, Zane Sibanda. – brandon_malvin