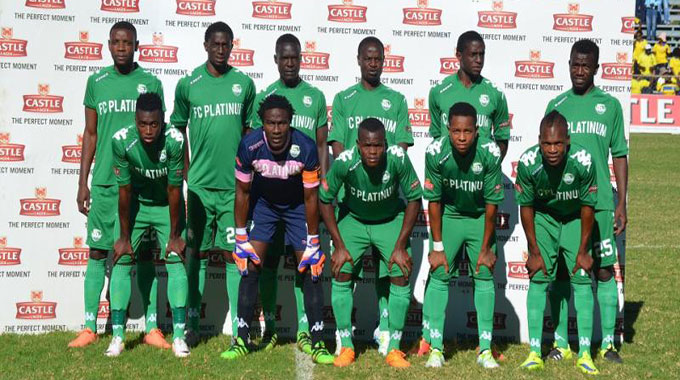 The Sunday News
Sports Reporter
FC Platinum (1)…………………………………….1
Manica Diamonds …………………………………0
CHAMPIONS FC Platinum retained their position at the summit of the Castle Lager Premier Soccer League standings with a narrow win over fellow big spenders, Manica Diamonds, at Mandava yesterday.
Cameroonian striker Albert Eonde's solitary strike in the opening 10 minutes was all the miners needed to ensure full points.
FC Platinum assumed pole position just before the Africa Cup of Nations enforced break, and yesterday they continued from where they left.
The win was made sweeter after Caps United, who started the campaign very well, failed to win at ZPC Kariba.
FC Platinum coach Norman Mapeza was happy that his men managed to collect full points despite missing some of his key players, including
Warriors defender Lawrence Mhlanga.
"Today we did not have the numbers but before the game, I told my players that today is not about our technical abilities. It is about our hearts.
"It is indeed a massive result for us, the boys played well. There was coherence between the midfield and defence.
"Lameck (Nhamo) worked very hard and I really want to applaud everyone for a job well done," said Mapeza.
Manica Diamonds coach Luke Masomere felt his men should not have lost the match but refused to go into details on why his men failed to get points in Zvishavane.
"I am disappointed with the result but there are a number of contributing factors for this loss. I would not want to talk about them today," said Masomere.
FC Platinum: F Tizayi, G Mbweti, G Bello, K Madzongwe, F Madhanhanga, R Pavari, N Tigere, L Nhamo (D Chafa 90th min ), R Kutsanzira, C Sibanda, A Eonde
Manica Diamonds: T Dube, L Masibera, P Mpelele, N Tachi, P Jaure, I Lawe, T Jeffrey, L Jesi (T Mamvura 75th min ), C Munzabwa, T Mukono (M Mudehwe 56th min), S Ngala (S Sibanda 75th min)