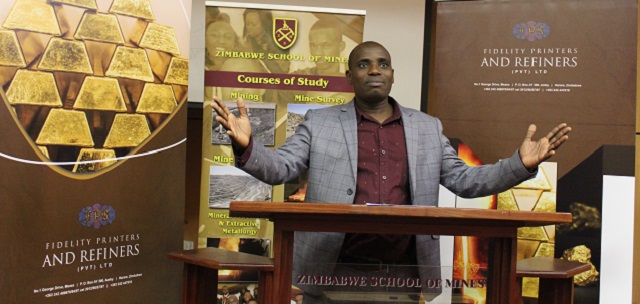 The Sunday News
Dumisani Nsingo , Senior Business Reporter
FIDELITY Printers and Refiners (FPR) will continue to come up with various initiatives and programmes aimed at supporting small-scale miners to improve gold production as part of its efforts to ensure the yellow metal contributes immensely to the growth of the country's economy.
In an interview with Sunday Business after officially launching the seven day fundamentals in mining training on Wednesday last week at the Zimbabwe School of Mines (ZSM) in Bulawayo FPR mining investments advisor Mr William Gambiza said the company was satisfied with the gold deliveries it was obtaining from artisanal and small-scale miners.
"At the moment I would say we are more than happy to see our small-scale miners as well as artisanal miners making such significant contributions, which are above 60 percent, it's something that we need to support so that we can even raise the bars higher above 70 percent. This is why we are even doing such initiatives where we are trying to train them so that they can come up with the right mining methods, right placing techniques, so that it can boost the production levels for the gold in mining industry," said Mr Gambiza.
He said the training which was wholly sponsored by FPR and facilitated by ZSM was largely meant to enhance small-scale miners with the requisite mining skills.
"Having realised some of the risks that are affecting our fund as well as skills risk we saw it fit as Fidelity Printers to partner with training institutions so that at least we can empower our miners with prerequisite skills, knowledge and competences that are required to move this industry to the next level.
"We need to ensure that our miners have a business appreciation. They may be able to come up with superior or sound business models which are required for this industry to move forward. So after this seven-day course we expect our miners to come out of this course with requisite skills and knowledge," said Mr Gambiza.
He said FPR was still in the process of signing Memorandum of Understandings (MoUs) with a number of selected companies for the supply of mining equipment to beneficiaries of its Gold Development Initiative Fund (GDIF).
"We have come across suppliers whom after being paid disappear, some don't even show up, some even supply substandard equipment so we did that (signing agreements) in the interest of making sure that at least we come up with suppliers whom we can rely on who can supply equipment, which is reliable and robust and to that effect selection is still work in progress and we hope by mid-November we should be done in terms of the selection," said Mr Gambiza.
The Reserve Bank of Zimbabwe introduced the $150 million GDIF, which is administered by FPR, two years ago, as part of its initiative to enhance economic productivity through promotion and development of the gold mining industry in the country.
Mr Gambiza said the gold service centres being rolled out by the Government play an integral role in offering a wide range of strategic services and logistics solutions thus enhancing production.
"We fully understand that our miners don't really need money. They need services in the form of milling services, drilling equipment and they also need transport so that they can move their ore from their mines to the milling centre to enhance the need for these strategic (gold service) centres, which can cater for the communities because artisanal miners come in numerous numbers so the best way to manage them is to come up with a reasonable or a more reliable business model would be to create a service centre where they can gain access to whatever they might need for their business to go forward, hence the need for a gold services centre," he said.
The Government has set up one gold service centre in Bubi District, Matabeleland North so far and four will be set up at selected gold mining districts across the country before the end of the year.
@DNsingo