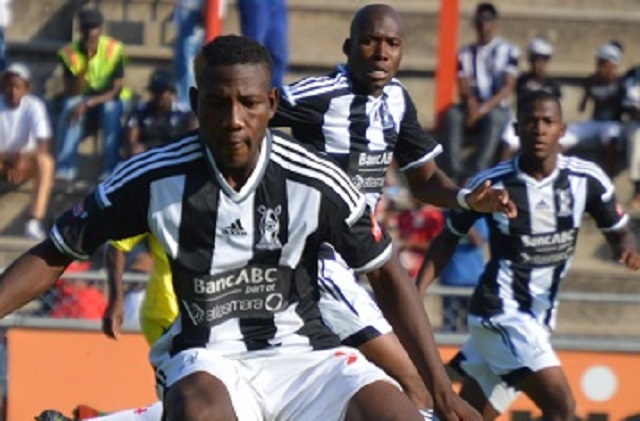 The Sunday News
Ngqwele Dube, Sports Correspondent
THE man who groomed Peter Mudhuwa as a junior player at Mpopoma-based side, Ajax Hotspurs, Siphambaniso Dube has urged the new Highlanders technical department to move the defender to the holding midfielder position which he excelled in as a rising star.
Ajax director, Dube said when Mudhuwa started out his career at the club as a junior he naturally fit into the central midfield role before being turned into an anchorman as his game improved.
He said while the player was turned into a defender when he was snapped up by Highlanders from Bulawayo Chiefs in 2015, he had always excelled in the middle of the park.
Mudhuwa was a revel to watch in 2016 at Bosso as he stamped his authority partnering Tendai Ndlovu in central defence.
He endeared himself to the Highlanders faithful with defensive prowess closing out marauding strikers while being able to accurately pass the ball.
Bosso last year struggled to find a permanent playmaker rotating between Tendai Ngulube, Erick Mudzingwa and Adrian Silla.
"I don't know if he has expressed his wishes to the coaches to play as an anchorman but I feel Highlanders can get the best out of him if they move him to that position. Yes he has excelled as a defender, shutting out a lot of strikers but I'm still convinced he is a playmaker.
"Actually I think if he is moved to that position he can turn out not only to be the best holding midfielder at Highlanders but also in the country. That position was a cause for concern for Bosso last year and I don't know why they did not try him there," said Dube.
He said being under the wings of Madinda Ndlovu can further aid Mudhuwa's development and ensure the player improves immensely.
Dube said besides being able to mark Mudhuwa is good with both long and short passes while he is comfortable on the ball and can make beneficial runs in attack.
"He can give adequate cover to the centre backs and defence as a whole because of his good defending abilities while also being able to initiate attacks as you saw with runs he made on occasions as the team attacked.
"His weakness, however, is making too many turns while in possession of the ball which sometimes leads to him being disposed but I think Madinda can polish him on that score because as a playmaker, you need to play basic football, winning the ball, providing cover for defenders and making accurate passes," he said.
Dube added Mudhuwa can combine well with Denzel Khumalo in central midfield having had a chance to feature in the same team at Ajax juniors.
He urged both players to put their heads on the ground and focus on improving their game instead of letting the fame of playing for Bosso get the better of them.
Dube said soccer players forget their careers are short and instead of maximising on the few years they let fame and bad influence get the better of them.
"Alcohol is not advisable for athletes but unfortunately we find a lot of young footballers imbibing liquor instead of ensuring they prolong their careers through healthy habits.
"Peter has always been an aggressive player but he did not exhibit a temper. Yes, he should tone it down but football being an emotional contact sport sometimes it is difficult to avoid," he said.
Dube said it was important for every member of the Highlanders family, from top to bottom, to exercise patience as Ndlovu goes about his rebuilding exercise adding it could be the rejuvenation the club has been waiting for and an end of the title drought.