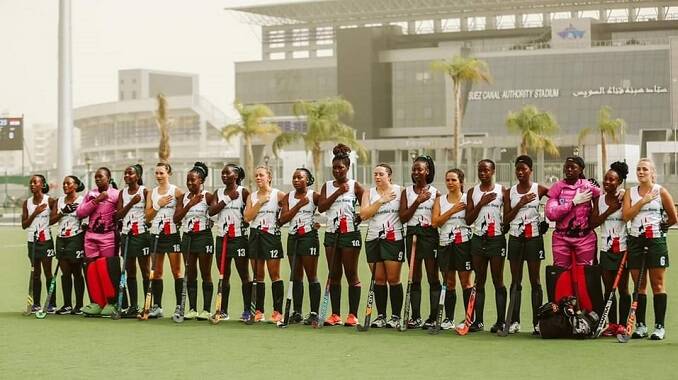 The Sunday News
Brandon Moyo, Sports Reporter
AFTER the poor start at the 2023 Hockey Junior Africa Cup, the Zimbabwe Under-21 women's team bounced back to register an important win in their second encounter with a 4-0 drubbing over Egypt while their male counterparts suffered another defeat, beaten 2-1 by Kenya yesterday at the Suez Canal Authority Stadium in Ismailia, Egypt.
Going into a tricky fixture against the hosts, Egypt, Zimbabwe women put in a brilliant performance to score four past the host nation without reply while the men's team lost 2-1 to Kenya as their hopes of making it through suffered yet another blow. Zimbabwe Under-21 men's hockey team
Goals for the Zimbabwean women came from Chelsey-Lee Hares, Athina Mujiba, Tinodiwanashe Elijah and Tanyaradzwa Changa after they quickly settled into yesterday's game, getting their first goal from Hares just a minute into the game.
"I am incredibly proud of our girls after the game today (yesterday) after they came back from the loss against South Africa yesterday (Sunday) afternoon, that 3-0 loss, the girls were really down, a little bit depressed, unhappy with their performance but they made an unbelievable turnaround to come back from that and they improved everything, they were confident which show that it was probably a lot to do with their nerves which is why we didn't perform as well as we had hoped to against South Africa," said women's head coach Brad Heuer.
The women's team will be up against Kenya tomorrow in a make-or-break tie while the boys will face Egypt in their last match as they look to end their campaign on a high note.
Four nations are taking part in both the men's and women's event after the late withdrawal by Ghana and Nigeria. The Junior Africa Cup will serve as a direct qualifier for the 2023 Junior World Cup, with the winner and runner-up qualifying.
Follow on Twitter @brandon_malvin