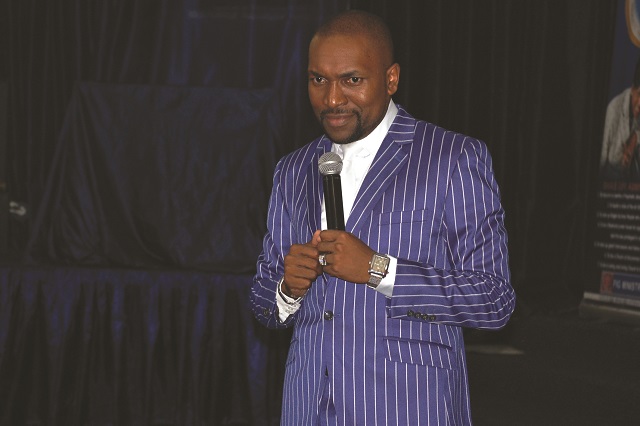 The Sunday News
Peter Matika, Senior Life Reporter
ON 26 May 2017 during a church service held at the Arena of Victory in Hwange, Eagle Life Assembly Church in Bulawayo founder and leader, Dr Prophet Blessing Chiza gave a prophecy that left Hwange community smiling all the way to the bank.
It was during his Mat North Mega Festival that he prophesied that Hwange Colliery Company Limited employees would be paid backdated salaries.
"The Lord spoke to me as I was coming to Hwange. He said I should give each of you money and you will see what will happen to your finances in this town of Hwange. I see Hwange Colliery employees being paid their backdated salaries. I declare money in your bank accounts right now," he said during the service, where he distributed US$1 notes to the people in attendance of the crusade.
Dr Prophet Chiza, on Africa Day launched his spiritual son, Emmanuel Hove's book titled The Business Booster, where he also prophesied a business boost for the business leaders who had attended the launch at a hotel in Hwange.
During the Crusade Dr Prophet Chiza is said to have knelt down and prayed for Hwange town and Colliery Company, which had gone for years without paying its workers.
"But being one of the biggest companies in Zimbabwe and Africa at large, he declared that two weeks after he left Hwange there shall be money released to employees of Hwange Colliery Company and he even gave people prophetic dollars to seal the prophetic word, as an ordained Prophet of God. Behold, two weeks after he left people were backdated their salaries seeing the lowest paid person, ranked as a cleaner, getting at least $800 and not less than that and others getting about $5 000 or more and now the town is in a jovial mood, as even businesses have recorded sales, which they last experienced about five years ago," said Pastor Hove of Faith in God Ministries in Hwange.
Pastor Hove said the Hwange community was astounded by the work and power of Dr Prophet Chiza and were requesting his return.
"The whole town needs the Prophet of God back because of the miracle he performed. May the God of our father Dr Archbishop Asa Gurupira be praised for raising such a Prophet in our nation Dr Prophet Chiza," said Pastor Hove.
After workers were paid the coal mining town was sent into a frenzy as they went on a shopping spree, leaving most shops empty.
""He gave us anointed dollars and prophesied that we would receive backdated salaries and it has happened. I am so happy since I last held money, I mean money, money, money. God has remembered us in Hwange. He gave us just a dollar and it has attracted more money," said Faith Nemananga, an HCCL employee.
"I was at the Mega Festival, it is not so much about the dollar, he just picked up the sand and prayed for it, sprinkled it up and down. I am enjoying and living," said Clare Change, also from HCCL.
HCCL workers were last week paid at least $800 as partial payment of their outstanding salaries under the Scheme of Arrangement that creditors approved recently. Workers said they were elated by the windfall, which came when they had gone for more than two years without receiving salaries.
"It's very true and we are very happy as workers that the company is demonstrating its commitment to clear the salary backlog. The money was deposited into our bank accounts yesterday," said workers' committee chairperson, Garikayi Sigauke in an interview with the Chronicle.
Most workers, including the lowest paid got about $800, which is about seven percent of what they are owed. The development comes as the mining giant's production for May rose by more than 300 percent to 170 000 tonnes compared to 52 000 tonnes in April. The increased production followed shareholders' approval of a debt repayment scheme, which allowed the company to borrow working capital.
In May HCCL creditors approved a Scheme of Arrangement which stopped litigations and writs of executions which had crippled the company's operations and it also allows the Colliery to borrow working capital from banks.
Mr Sigauke said workers' morale had been boosted following the part payment of their salaries and they were now confident that their outstanding salaries will be paid.
The impact of the salary payment has been felt by the business community in the coal mining town as most businesses reported brisk business.
One retail shop manager identified as Mr Moyo said the business community was happy that people now have disposable income.