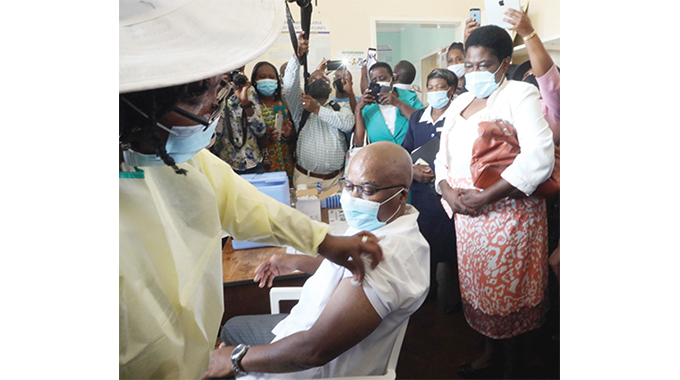 The Sunday News
 Robin Muchetu, Senior Reporter
FRONTLINE workers countrywide have responded to the call to get vaccinated for Covid-19 since the arrival of the vaccine in the country last week with a total of 1314 workers having taken the jab by Monday afternoon.
All the country's provinces received doses last week where those classified under Phase One will be vaccinated.
The first phase is for the high-risk component of the population and is made up of two stages. Under the first stage of the initial phase, Government is targeting frontline workers who are at high risk of Covid-19 and these include health workers, ports of entry personnel, Zimbabwe Revenue Authority, Immigration and village health workers.
Stage two of phase one will target those with chronic illnesses, the elderly aged 60 years and above, inmates and prison population and others in confined settlements including refugee camps. The second phase will cater for lecturers, all schools staff and other staff at medium risk depending on the epidemiological picture of the disease.
According to the Covid-19 update from the Ministry of health and Child Care 66 new cases were recorded yesterday and one death reported from Manicaland Province.
"As of 21 February 2021, at 1500 hours there were 147 hospitalised cases, asymptomatic63, mild to moderate43, severe 36 and five in intensive care units," they reported
The National Recovery Rate now stands at 89.6 percent and active cases have gone down to 2206 and 91 new recoveries have also been reported.
Positivity rate stood at 4 percent with 1643 tests carried out on Monday.
As of 22 February 2021, Zimbabwe has now recorded 32862 cases, 32216 recoveries and 1441 deaths so far countrywide.
@NyembeziMu