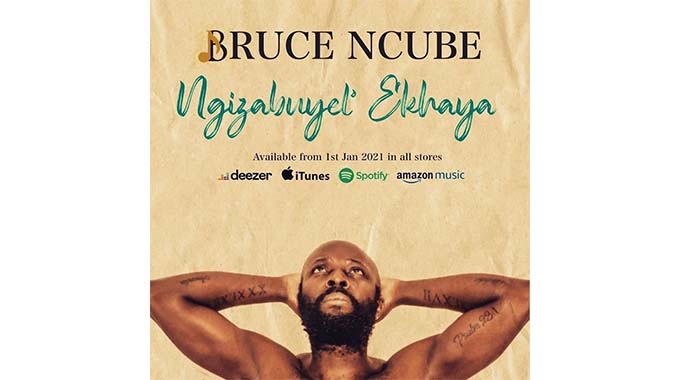 The Sunday News
Sithatshisiwe Gwaza, Sunday Life Reporter
WHILE the lockdown has been a painful period for many artists whose careers came to a halt with earnings plummeting as venues shut down and people stayed at home, for United Kingdom-based Bruce Ncube it was a different story as he used the period to pen, record and release his debut song.
Ncube (34), well known for being a percussionist, decided to enter into a new role of being the lead vocalist after putting his voice to test in a project initiated during the lockdown.
The success of the project, a collaboration with a friend guitarist, Will Sherratt, gave Ncube the courage to start writing his own songs and come up with his first composition, Ngizabuyela Ekhaya, which was released on 1 January.
"For a long time, I have been a session musician mostly providing percussion for bands, groups artists both abroad and in Zimbabwe. I have been teaching songs/harmonies from Zimbabwe/Southern Africa for over 10 years now.
"Recording the track has always been coming and last year I gave it a go when I fronted the vocals in a rendition of one of my favourite and all-time great song, Ruva Rangu famously done by the Pied Pipers in the 90s and covered by many Zimbabwean musicians.
"Sherrat got some funding through the Arts Counci of England and asked me if we could do a piece together as part of his project and I took up that opportunity to really test my voice with another instrument separate from the Mbira and Marimba which is what I was used to.
"The piece was a success and on YouTube it has garnered close to 10000 views. That basically gave me the courage to start writing my songs. So, throughout the lockdown, that's what I have been doing," he said.
Ngizabuyela Ekhaya (I will be back home), released on 1 January, is an afro-jazz tracks speaks of a man traversing the world but is certain of making the journey back home.
This is Ncube's first song that incorporates almost a full band having previously recorded acappella and traditional tracks and he hopes to come up with a full album by the end of the year.
"I am hoping to collaborate with a number of well-known musicians, mostly from Bulawayo," he reveals.
Ncube, who grew up in Njube, says his gravitation towards afro-jazz was influenced by the popularity of the genre during the time he grew up in the townships.
"Its music and sound that was played more in shebeens and growing up in Njube, I strongly identify with it. Even though I grew up at a time when it was fading, in terms of bands composing and playing the music live, we would still hear the sound in beer gardens and shebeens.
"So, I identify easily with the sound and it's a genre that I like. It's more experimental and easier to improvise on, it is very accommodative to any good musician," he said.
Ncube said his music will focus on telling stories, not only his but also of people from the ghetto which he strongly relates to.
Ncube specialises in teaching traditional songs from Zimbabwe/ Southern Africa in 3 to 6-part harmonies and is also an African dance teacher, drummer and percussionist.
In 2013, and after many years of touring the United Kingdom with Umkhathi Theatre Works and Grassroots Theatre Company, he founded my own arts company, Mema Arts Zimbabwe.
Ncube, whose work involves major festivals such as WOMAD, African Drum Village, Drum Camp, The Edinburgh Fringe Festival, ZimFest and the Edinburgh Mela Festival among others, is the brains behind Africa Day in Njube, an arts festival held in Bulawayo.