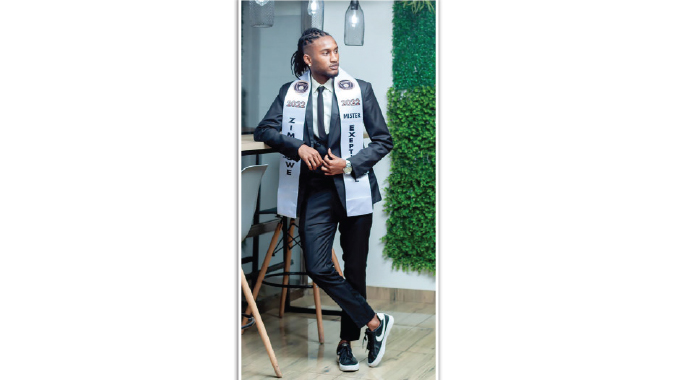 The Sunday News
Sibongile Ndiweni, Sunday Life Reporter
THE country's modelling industry has largely been seen as a female domain with very few men wanting to take up the challenge and creating a name for themselves.
Sasha Donovan Lunga Brigham is, however, among the few males who have taken up modelling and kept their passion as they try to redefine it as a gender-neutral industry and do away with the perception of it being for the fairer sex.
The 25-year-old model is a Zimbabwe-born freelance model who holds the title of Mister Exceptional International.
Motivated by his drive to become a man of value rather than merely being successful, the model left his career in soccer and decided to join modelling.
He is working on promoting mental health, and is also a part of the Legal Practitioners Association FC whose vision is to give out donations to different orphanages.
"I draw my inspiration from a lot of individuals especially the ones who were brought up from underprivileged backgrounds to be of value and who have become philanthropists in their societies and the nation at large. And I believe my aim of promoting mental health should start in my country as part of my desire to help people from my community," said Brigham. The model said he started his modelling career in 2019 when he was featured in two of South Africa's magazines, PPMC magazine and the ModelMagSA. He then joined City's Favourite Models in 2020 which covered his commercial shoots with Edgars Zimbabwe. Brigham said he managed to be crowned king in the Mister Exceptional International pageant because the pageant sought for unique individuals who want to add colour and value in their communities through advocating for one of the Sustainable Development Goals.
He said modelling has never been something he wanted to do as a career, he would just do it for fun as he used to see himself as a footballer and would always cherish playing football.
He added that somehow, he decided to give his all to modelling and  his passion for it grew.
"I played for Stamina Football Academy in South Africa, I also played for Under-14s at Highlanders Football Club, played for Real Stars, and also played for Bantu Rovers in my junior level.
"As I was playing in South Africa Covid-19 hit and after normalcy returned I came back to Zimbabwe and just felt like restructuring my life and I realised football wasn't going to work for me anymore," he said.
Brigham says with all the support he has been getting from people close to him, he is inspired to continue making strides and a name for himself in the modelling industry.
He says he sees himself advertising for bigger brands, advocating and creating awareness about mental health as Mister Exceptional International, and also working with organisations who have the same vision and agenda to tackle mental health associated stigma.