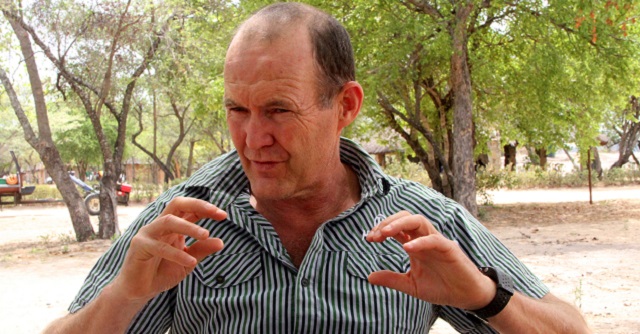 The Sunday News
Dumisani Nsingo
A DREAM and a vision if not acted upon will remain just that — a dream. But dreamers that act and turn their dreams into reality are often great humans capable of changing lives and leaving a lasting legacy in the minds of those whose lives they positively impacted.
This can only be an apt description of the dream by Mr Peter Cunningham and his ally Bishop Patson Netha whose vision to see the traditional begging basket carrying communities of Matabeleland empowered through agriculture coming to an abrupt end is fast bearing the desired fruits.
The surge towards empowering the poor and breaking the yoke of poverty originated in Mr Cunningham and was then taken up, sanctified and made a dream come true by his bishop friend Mr Netha.
The two did not only encourage the communities to do farming but patiently supplied them with the means to do so.
Their story is not one abrupt success. It is one of perseverance, commitment and passion that started half a decade ago in 2013 when the two religious men decided to spearhead an agricultural revolution premised on Christian values.
They named the concept Turning Matabeleland Green (TMG) and rightfully so, the vision started in the Kezi area of Matobo District in Matabeleland South Province where Mr Cunningham does his farming at Maleme Farm and also oversees an intern farmers training centre, Ebenezer.
The TMG concept might have spread in all the country's provinces running under the same acronym but it is where it all begun where it has managed to make a positive impact through turning around lives of hordes of impoverished villagers for the better.
TMG now has branches in the country's eight provinces with the letter "M" representing the province of origin.
It provides monthly training sessions for the farmers and community leaders to learn how to grow tomatoes and raise chickens as well as helping them to access markets.
Through the programme's broiler outgrower scheme over 350 villagers in Matobo's impoverished villages have managed to build modern houses discarding their previous habitats of clusters of shanty mud and grass thatched huts.
Above all the programme has brought more than 2 000 people out of extreme penury.
Bishop Netha said the poultry project has significantly played a part in improving most of the villagers' livelihoods.
"We are actually having a system that is looking after the poor of the poorest where we even have those who are looking after orphans . . . We have seen a dramatic change in lifestyles. People who could not even afford to have tea and bread now can and those who couldn't afford to take their children to school are now able to do so," he said.
Bishop Netha said the poultry programme was merely an entry point aimed at captivating villagers to venture into agricultural enterprises, which offer better returns within the shortest of periods.
"We are dealing with both cropping and husbandry. We want to see a villager having about four different agricultural enterprises. If you have to turn a thing green it's not how you see it, it's also a change of the mindset so the change of the mindset is what we are aiming at," he said.
Mr Cunningham said it was encouraging to note that the villagers under the outgrower scheme have embraced it as a business.
"About six years ago, most villagers thought they were poor and didn't have a lot to contribute to life and that somebody must come to do a project with them and over three to five years with Bishop Netha preaching and talking about life they have moved to regard themselves as businesspeople contributing to a value chain and we together we are competing against commercial companies," he said.
One of the contracted villagers Mrs Sithokozile Nyathi of Magobeni village said the poultry project managed to rescue her family from abject poverty.
"We started rearing of chickens in 2015 and prior to that we were on the brink of extreme poverty. We were literally moving around the village begging to those that were better off and the clothes we wore were just rags, life was really a struggle and at one stage I thought we were going to succumb to hunger since we could hardly afford a single proper meal for weeks. My husband and I were unemployed and failing to fend for our children," she said.
Mrs Nyathi said although her first attempt to rear the birds was not much of a success she had no option but to persevere as she saw the poultry project as the only hope of making inroads against hunger and the impoverished state her family found itself in.
"When I started we didn't get much profit, I think we only got about $200 realising about 20 cents per bird largely because the mortality rate was high as we weren't used to rearing chickens and to make matters worse the economic situation was bad," she said.
To date, Mrs Nyathi has three fowl runs with a carrying capacity of 1 000 birds each and constructed from locally available natural resources in the form of clay bricks, with the floor of the structure being plastered by mud while the roof is thatched with grass.
The off taker of the chickens, Sondelani Ranching, which is owned by Mr Cunningham, provided her with a mesh fence and chicken feeders as well as feed, which is constantly supplied to all contracted farmers upon being allocated chicks.
The enterprising farmer who has named her project Sthokozile Outgrower realises an average of $1 200 after every six weeks and has managed to build a modern brick and mortar four-roomed house from the proceeds she realised from the chicken rearing venture.
"I never imagined that one day I will actually be self-sufficient in terms of livelihood. Through this project I am now realising an average of about $1 200 in six weeks and the highest I have realised has been $2 138.
"We are now in the process of drilling a borehole so as to embark on a market gardening project majoring in producing tomatoes. Sondelani Ranching now owns a tomato canning plant and we will be producing tomatoes mainly for that plant," said Mrs Nyathi.
Another beneficiary of the outgrower scheme Mrs Linah Moyo of Shumbeshabe village said it was of paramount importance to ensure the sustenance of the project as families in various villages have enhances their livelihoods.
"The project has benefited us a lot as a family because we have managed to generate income to improve our homestead and also managed to pay school fees for virtually all our children.
"I wish to ensure that it continues for some time as it has really improved people's livelihoods in most villages. As it is we are probably earning more than people that are formally employed," she said.
Mrs Moyo was once contracted to rear ostriches and chicken layers but due to the long period of obtaining returns and nominal profitability respectively she opted out just as most of the villagers forcing Sondelani Ranching to suspend the two ventures.
However, it is the heart rendering story of one of the pioneers and eldest beneficiary of the outgrower scheme Mrs Enelia Sibanda (74) a village head at Silozwana who has managed to take care of seven orphans from the proceeds realised from the poultry project.
Mrs Sibanda lost all her children and the only remembrance she has of them are her grand children including those that were left by her late siblings totalling seven orphans — it is indeed any exhibition of courage in the face of loss.
Faced with the calamity of losing loved ones one after the after, the septuagenarian had no choice but to look after her grandchildren and thanks to TMG she has all but achieved this feat.
"This project has played a pivotal role in ensuring that I look after my orphaned grandchildren. It has become our only reliable source of income. I have managed to pay school fees and buy school uniforms for my children as well as buying food using the money I have realised from this project," said Mrs Sibanda.
@DNsingo