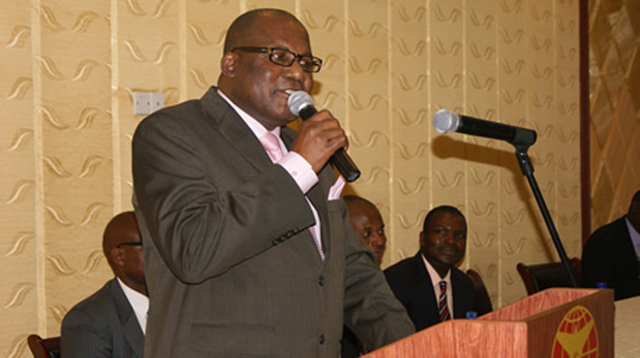 The Sunday News
Vusumuzi Dube and Richard Muponde Sunday News Reporters
INFORMATION, Media and Broadcasting Services Minister Dr Christopher Mushohwe last week received death threats after making a statement exposing perpetrators of last week's riots. Dr Mushohwe made these revelations while speaking at a Matabeleland North Zanu-PF inter-district meeting held in Lupane yesterday. Dr Mushohwe said he got anonymous calls from individuals threatening him and his family but said he would not be deterred from exposing the forces behind the riots and Beitbridge destructions.
"These people thought they are clever in the sense that they believed that they were faceless individuals but we now know them, even these people who made these death threats to my family and myself we now know them and we are not worried or feel threatened at all.
"We know that the opposition previously claimed that they were not involved in all this pandemonium but we now know that they have a heavy hand in all this. We know that they received large sums of money from embassies to instigate this unrest in a move to use social media to effect some sort of regime change agenda," said Dr Mushohwe.
The minister accused the country's opposition of hiding behind a misguided notion that the violence was being led by "citizens" further revealing that these "citizens" were just a handful of individuals who were abusing social media platforms.
"When all this started I was in China where I engaged various institutions on matters pertaining to my ministry. I asked them, among other things, how they managed the use of the social media considering that they have over 700 million mobile network users, of which they said it was the easiest task, they actually said none of those 700 million users could post something on social media without the Government knowing.
"They actually laughed at me when I told them that in Zimbabwe we have just 1,5 million users, yet someone then thinks we are that dull such that we cannot monitor how they use the social media. I should warn all those who are abusing the social media to cause unrest in the country that we are coming for them," said Dr Mushohwe.
He said the ruling Zanu-PF would not just give in to a handful of misguided elements, saying they had got the mandate to lead the country hence they would do so without fear or favour. He further warned the general public not to fall victim to the trickery of those individuals as the majority of them were just interested on selling out the nation to the West.
"As Zanu-PF we are a party with a history and known ideology. We are unlike some of these individuals who were bought by other countries. We have a constitution that governs our party therefore if people feel that they are not satisfied with the manner in which certain things in the country are being done, there is a way in which they air their views hence these problems can be easily solved.
"Right now they all know that industries in the country, especially in the Matabeleland region were shut down because of the very sanctions which they called for. It is because of this that most people then resorted to the establishment of small and medium scale enterprises, which we as Zimbabweans manage on our own. They then go on to tell us to stay away from the very companies which we run. Where is the logic in all this? It is clearly someone being cruel and not interested in our growth."
He said strikes only used to work when people were striking against white bosses not the prevailing scenario where everyone was running SMEs.
The minister also took the opportunity to clarify the Government's Statutory Instrument Number 64, saying the opposition was busy misleading people instead of stating the truth — which they were aware of — that this was not an import ban as was being stated in the social media.
"If you want to buy food for your families we are not saying you cannot do this but let us be honest, what will we be aiming to achieve if we say people can go buy meat, for example in South Africa, we are indirectly trying to destroy our own beef industry. It further boggles the mind that people would want to go buy Cremora powdered milk from South Africa when we have a Nestle plant in the country.
"The same applies to the lies being peddled around the issue of the introduction of bond notes, it is a straightforward matter that is being blown out of proportion with some claiming that this is an attempt to bring back the Zimbabwean dollar via the back door.
"But we now know that the people spreading all these lies are white businesspeople who are running their businesses in the country who are the key perpetrators of the externalisation of money, we know that currently they are not banking locally but with bond notes we know that they will be forced to bank locally hence we will now have money in circulation," said Dr Mushohwe.
Meanwhile, the minister called on party members to remain united as the country approaches the 2018 elections saying that unity was the key to success.
"Let's not worry ourselves with these other opposition parties, they are currently in tatters and are not going anywhere at all. We have to work on building our party from the cells and ensure that come 2018 we have a clean sweep. As we work we must never forget that the party has one centre of power, which is President Mugabe.
"Anyone out there who is dreaming that they will ever be President ahead of President Mugabe should simply wake up and wash themselves with cold water. These opposition leaders are just dreamers and should be advised so, take Joice Mujuru for example, she was lifted from nowhere to where she is by President Mugabe.
"I remember in 1980 when we achieved independence, the President organised a secret school at Zimbabwe House, under my leadership, Mujuru was taught at that school but now she thinks she can topple President Mugabe, she is clearly dreaming and some of us know that but we have previously been quiet hoping she would wake up from her dream sooner rather than later," said Dr Mushohwe.
The meeting was also attended by Politburo member, Cde Joshua Malinga, Matabeleland North provincial chairperson, Cde Richard Moyo, Minister of State in the office of Vice-President Emmerson Mnangagwa, Cde Clifford Sibanda among other senior party officials in the province.
Meanwhile, addressing a Zanu-PF meeting in Gwanda, Foreign Affairs Minister Simbarashe Mumbengegwi also said the issue of restricting imports was meant to revive industry especially in Bulawayo.
"There was a misunderstanding in the implementation of regulations of goods from South Africa. It was not a ban, it is a regulation to try and encourage the revival of local companies so that people here buy local products and support the local industry. Bulawayo used to be an industrial hub and we want that industry to be revived. Hyperinflation of 2008 killed our currency and we had to use the US dollar which needs us to export than to import because it will be flying away," said Minister Mumbengegwi.
He added that the multi-currency system was a migratory measure to kick start the economy.
"The problem we got is that our people said they don't want to use all currencies but the dollar because it was more valuable than other currencies. However, the Government discovered that we cannot control its flight and set to introduce bond notes which have the same value with the US dollar but the difference is you can't run away with them," said Minister Mumbengegwi.