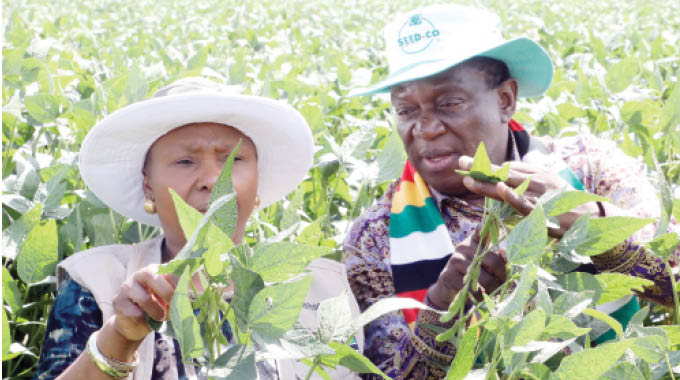 The Sunday News
Michael Magoronga, Midlands Correspondent
THE Government is set to introduce an intensive farming programme meant to enhance the country's food security, a Cabinet Minister has said.
Speaking during the field tour at Precabe Farm in Kwekwe on Thursday, Lands, Agriculture, Water, Climate and Rural Resettlement Minister Perrance Shiri said the Government was concerned by low yields and the failure to fill the country's silos due to a number of factors. The farm belongs to President Mnangagwa. 
He said the Government was introducing measures that will counter climate change effects and improve productivity and maximise yields from small pieces of land.
"The fact that we are failing to fill our own silos has seen us introduce measures to improve yields. We will go around the country looking for farmers who are able but are lacking resources. We then empower these farmers so that they produce more from small pieces of land," said Minister Shiri.
He said communal and A1 farmers would be targeted under the programme.
"While we will be targeting commercial farmers mostly, we are not forgetting our peasant farmers whom we are saying they should be transformed into businesspeople. We shall continue working with them so that they farm not only for consumption but they should be able to sell and even export their produce thereby contributing to Gross Domestic Product," said Minister Shiri. Minister Shiri praised President Mnangagwa for leading by example through his farming exploits.
"Those who hate us from other countries, I am sure they are yet to come to this farm. Our President is leading from the front in eradicating hunger and boosting food security. I am sure that all those who came from universities and our different ministries have learnt a lot from the way the President is doing his farming business," he said.
Elaborating on the programme, Permanent Secretary in the Ministry, Dr John Bhasera said the programme was targeted to boost productivity among smallholder farmers.
"We are targeting those farmers with small sizes and are willing to enhance productivity through competitiveness. This also can be seen as the commercialisation of smallholder farmers and making them realise more from small pieces of land," he said.
Dr Bhasera said the programme will involve a different type of farming by digging holes that would be used to protect moisture and making use of mulching beds to protect moisture.
"The method is targeting at minimising costs and increasing yield. Holes can be dug in June or July and from there they can be watered, fed with manure as well as mulched to preserve moisture," he said.
The programme comes as the Government is embarking on farm downsizing after a land audit revealed that some people had bigger farms that they were not utilising.