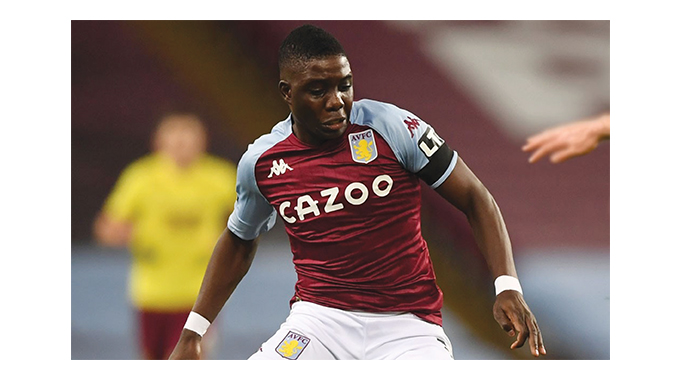 The Sunday News
Mehluli Sibanda, Senior Sports Reporter
ZIMBABWE Warriors midfielder, Marvelous Nakamba is excited to finally have his Marvelous Nakamba Foundation Invitational Football tournament finally taking off, with the inaugural event to be held at the end of this month at White City Stadium.
The Aston Villa star, who is on an off-season break from the English Premier League believes that grassroots football is key for the survival of the game.
His comments come after the tournament, whose planned inaugural edition could not take place last year when the country went on lockdown due to rising coronavirus cases has been cleared to go ahead on 25 and 26 June at White City Stadium.
Nakamba is expected to attend the two-day tournament together with a number of renowned football scouts.
"It's thrilling that after all the waiting, finally the time is here for our youngsters to get to enjoy the same privileges that even people like us went through in our junior academies before. Grassroots football is a very important part of the survival of football, we have all come through the system of being afforded chances at an early stage and it is befitting that we continue the tradition of supporting grassroots sports.
"We appreciate the approval from the custodians of football and it is our hope that this tournament will raise the curtain to the commencement of junior football in the country, this will be a stepping stone to a Covid-19 complying football era,'' Nakamba said.
Clearance has been granted for the MNF Invitational tournament to go ahead where 400 up-and-coming footballers will showcase their skills. Teams participating in the tournament are coming from all over Zimbabwe.
"We are excited to announce that following the Covid-19-induced postponement of our inaugural 2021 edition of the Marvelous Nakamba Invitational Tournament, we have since put all measures in place for the 2022 edition of the tournament. We are glad to announce that we have finally received clearance to host the Under-17 football tournament.
"It gives us great pleasure to know that we have the support of the football custodians as we endeavour to empower grassroots football through this tournament that will see over 400 budding footballers get an opportunity to showcase the talent that we have in abundance. The dates for the tournaments are 25 and 26 June 2022 at White City Main Arena and B Fields,'' said the MNF.
Details on prizes for the tournament are expected to be announced in the coming days.
Follow on Twitter @Mdawini_29