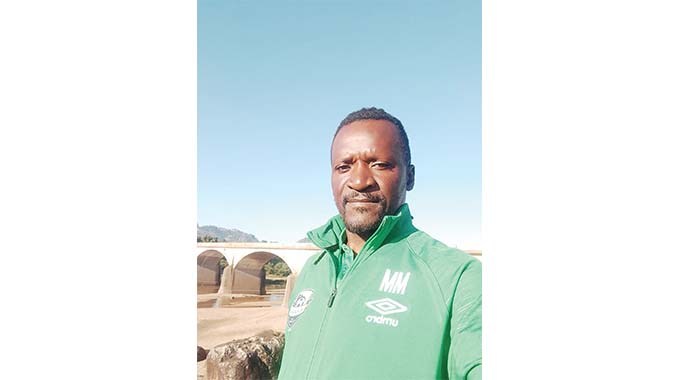 The Sunday News
Yesteryear greats with Lovemore Dube
LANCASHIRE Steel FC legend Moses Mwafulirwa always put in a workmanlike shift in all his matches. He played as if his very life depended on that particular game.
Mwafulirwa will always be rated among the best centrebacks to emerge from Chegutu where he was born in 1974. He is among the best centrebacks seen in Kwekwe and Redcliff in an impressive list that has the likes of Ephraim Moloi, Benedict Moyo, Farai Vandira, Newman Bizeki and Paul Gundani. Tapela Ngwenya a former teammate spoke highly of the centreback.
"He could start play for us, he could command and communicate. He was good at concentrating with his role. He knew when to hold up play or dive into a challenge. The guy hated losing," said Ngwenya.
The former lanky forward said Mwafulirwa would be the first to lash out at his colleagues.
"The guy hated losing, he would get into the dressing room, shout at us. He would call a spade a spade. He was good on one-on-one duels and had height and power," said Ngwenya.
Mwafulirwa partnered two dependable centre-halves George Magariro and Brighton Tuwaya both of whom went to star for Dynamos.
Born in a family of five, three boys and two girls to a football-loving father, Mwafulirwa grew up with the soccer bug in him.
"We would hear members of our community saying they had travelled to watch or play football. They would watch the Super League at Cam and Motor Stadium, the home of Rio Tinto," said Mwafulirwa.
He said some fans would cycle up to 32km for the matches as football was liked. Mwafulirwa attended Pfupajena Primary School and Chegutu High School. His football journey started at primary school where a Mr Mushayavanhu called him to join the school team at training.
"The ball had trickled to some metres behind the goal line and I hit it so hard that the teacher saw a footballer in me and invited me to join them in 1986. I started off as a striker because I was good at sprinting in athletics. I used to participate in the 100, 200 and 4x100m relay. He would also play me as a defender when we played schools from urban areas, because I was too aggressive and good at marking," said the former tough-to-beat defender.
At secondary school, he was used as a winger because of his small frame.
"As time elapsed, I started commanding a position in the first team while in Form Three. I was played in all positions at the back. It was at that time that I joined a Third Division side, Young Mambas FC. We were coached by Mr Bishop and we travelled as far as Norton to fulfil our fixtures. I would walk long distances to train and we would play Division One side David Whitehead. It is at that stage that David Whitehead identified me for the future as they asked me to join them once I finished writing my O-levels. I was done by November 1991," said Mwafulirwa.
True to their word in January of 1992, David Whitehead officials visited his home and asked for his whereabouts.
"When I acknowledged that it was me they were looking for, they told me I had found myself a job and they drove away with me. Initially, I had ignored them thinking they were on some other business though I had heard one of them in the truck saying it was where I stayed," said Mwafulirwa.
With the visit, he joined Lulu Rovers who were owned by the spinning company. His most memorable match in his early days was playing against Highlanders in the Zifa Cup quarter-finals.
"It had the likes of Peter Nkomo, Mercedes Rambo Sibanda, Willard Khumalo, Abraham Mbambo, Makwinji Soma-Phiri and Rahman Gumbo. What a great game! We lost in the second half of extra time," said Mwafulirwa.
Lulu Rovers had at some stage good players like Cyprian Kanyemba who also played for Highlanders, Sonny Munyoro and Goodson Gama Dolola, Felix Banda, Benjani Mwaruwari, Peter Masbera, Kuda Mashayamombe, Noah Zulu and Sabit Yusuf.
Mwafulirwa remembers being called Zambian international on Division One matches once Charles Mabika was on air. His move to Lancashire Steel in the Premiership came through talent identification by Lancashire Steel scouts.
"Their scouts used to watch our home games. They invited me for trials in Kwekwe and I never looked back after impressing. They were coached by Ashton Papa Nyazika. In 1999 we played in the Madison Trophy final which we won 2-1 over Caps United with Luke Petros-Jukulile and Petros Sibanda on target while Mpumelelo Dzowa pulled one back for them," said Mwafulirwa of his major trophy win in his professional football career.
With the likes of goalkeeper Phillip Machona, Tapela Ngwenya, Jukulile-PetrosAlbert Mbano, Stephen Sande, Justice Majabvi, Magariro, Tiwaya, Willard Khumalo, Misheck Kwangwari, Dick Moyana, Amos Mkowa, Makreza Navaya, Isaac Nyabvure, Ernest Gava, Isaac Chembe and Tafadzwa Mombeshora, Mwafulirwa says the club was as good as the best in the land. Among one of his best moments was being selected into the Midlands Select in 2006.
"I was selected alongside Lovemore Makwavarara, Benjamin Marere, Maxwell Dube, Phillip Marufu, Dumisani Mufudze and Chipo Tsodzo into the Midlands side. We qualified for the final and were beaten by the Masvingo Select that had Tafadzwa Dube, Godfrey Dondo, David Mutale and Lloyd Hlahla."
In 2008 Lancashire Steel was demoted to Division One. He moved to Chrome Stars where he played a few matches before being promoted to player/coach. In 2009 he moved to Mimosa Mine to play under Jairos Tapera and they finished fourth on the log and in 2010 he was part of the history making side that got the team promoted into the Zimbabwe Castle Lager Premiership.
The former electrician's assistant at Lancashire was after promotion drafted into the technical team. Mwafulirwa was drafted into the developmental side which started at Division Two and now plays in the Central Region League. He is married to Sheila Chinengo and they have four kids.