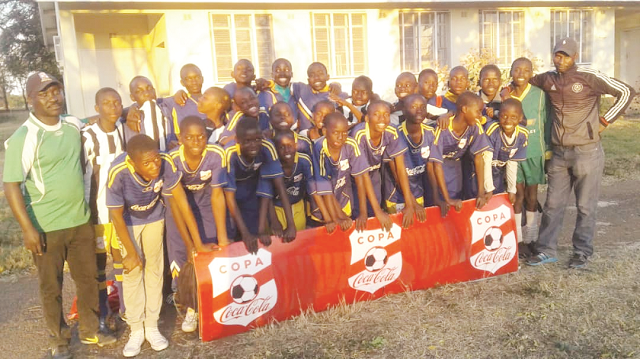 The Sunday News
Mehluli Sibanda, Senior Sports Reporter
MPOPOMA High School, who have their girls as well as boys teams representing Bulawayo at the Copa Coca-Cola national Under-15 competition in Zvishavane are confident of a better show in the tournament.
James Rugwevera, the Mpopoma sports director said they believe they have done enough in terms of groundwork ahead of the journey to Zvishavane. The girls took on Townsend at Mpopoma last Thursday and won 3-0 and they are in action again this afternoon against the Bulawayo National Youth Games team in what should be a competitive match for them.
"We have done enough preparations in terms of us going to the nationals, as for girls so far we have played one friendly with Townsend where the girls won 3-0 and we are also going to play another friendly on Sunday against the Bulawayo National Youth Games team,'' Rugwevera said.
For the boys, a friendly has been arranged for them against Entumbane Under-17s before they get into camp for Zvishavane.
"I think there (against Youth Games team) we will get challenged because I have seen the team, last week they were training at Mpopoma. As for the boys, we are playing a friendly on Monday against Entumbane Under-17 then after that we will call the boys into camp then we go to play,'' he said.
Last year, Mpopoma had their girls' team at the national finals in Bindura where they failed to progress beyond the group stage. The boys last represented Bulawayo when the competition was held in Bulawayo in 2015 and they made it to the quarter-finals. Rugwevera is aiming for a better showing in Zvishavane.
"We hope to probably surpass what we did in 2015 when we got to the quarter-finals, this time we are probably going to be in semi or in the final. We are going to improve. He girls, we understand that the group they are in is a really tough group but they are going to manage to push through to the next round,'' Rugwevera said.
Asked to be realistic on which of the two teams has a great chance of bringing the winner's trophy to Bulawayo, Rugwevera said the girls had great prospects.
"We are hoping to get the trophy especially coming from the girls, the boys we are not sure but as for the girls they are alright, they are going to fight there but we are not going to push them under a lot of pressure but what we want is probably is to move out of the group stage so that they go to the knockout stage, that's our aim,'' he said.
In the group stage, the Mpopoma girls will play against Vainona and Birivenge while the opponents for the boys are Guinea Fowl and Somvubu.
Mpopoma also have their netball team heading off to the Stella Tea 17 years and under national netball tournament at Pamushana High School in Masvingo. Their girls volleyball side last month successfully defended their 17 years and under title in Harare.
Rugwevera attributed the school's success in sport to the support they are getting from the headmaster Christopher Dube.