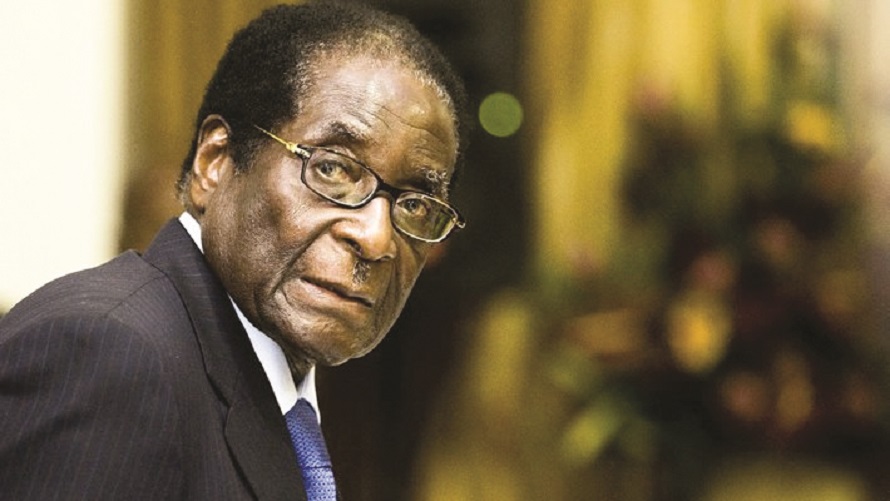 The Sunday News
Mabasa Sasa, Harare Bureau
Former President Robert Mugabe for years received his salary in cash, and has demanded that the same arrangement apply to his pension lump sum of nearly half a million dollars and monthly pension payments of over $13 000, our Harare Bureau can exclusively reveal.
Documents in possession of our Harare Bureau show Mr Mugabe wants his pension lump sum of $467 200 and monthly pension of $13 333 in cash.
The documents show Mr Mugabe had been getting monthly cash payments of $20 000 while still Head of State and Government, even as ordinary Zimbabweans queued for days on end to access amounts as low as $20 from banks.
Though it could not be ascertained by the time of writing if the payments were done in foreign currency or bond notes, our Harare Bureau established that former First Lady Mrs Grace Mugabe is also getting a monthly payment of
$2 170 from the State.
On March 1, 2018, the Chair of the Public Service Commission Mr Mariyawanda Nzuwa wrote to Reserve Bank of Zimbabwe Governor Dr John Mangudya asking monetary authorities to avail the cash for Mr Mugabe.
The letter was copied to Chief Secretary to the President and Cabinet Dr Misheck Sibanda, Secretary for Finance and Economic Development Mr Willard Manungo, and the Secretary for the PSC Mrs Pretty Sunguro. Mr Nzuwah said Mr Mugabe was entitled to a pension in terms of the Presidential Pension and Retirement Benefits Act (Chapter 2:05).
"Section 2 of the principal Act as amended states that the former President of Zimbabwe is entitled to a pension that is equal to salary and allowances payable to the serving President of Zimbabwe.
Section 10 of the principal Act as amended states that the former President of Zimbabwe can commute a portion of his pension not exceeding one-third of a pension payable to him.
"The former President opted to commute one-third of his pension and he is therefore entitled to monthly pension of $13 333 and lump sum pension amounting to $467 200. The former President was being paid his salary in cash and he has requested that the same arrangement be maintained. We are kindly requesting you to avail cash amounting to $467 200 and monthly cash amounts of $13 333 for us to pay the former President of Zimbabwe his pension benefits," wrote Mr Nzuwah.
Since he resigned in November 2017, Mr Mugabe has received $80 000 in pension, while Mrs Mugabe has received $8 680. The payments to Mr Mugabe were made on January 5, 2018
($40 000), January 29, 2018 ($20 000), and February 28, 2018.
The two payments on January 5 were because Mr Mugabe had not received his pension for November and December 2017 due to administrative issues hence the double instalment to offset arrears.
He got a third instalment at the end of January as his pension for that month, with the fourth also coming as scheduled in February.
Mrs Mugabe received instalments of $2 170 in November and December 2017, and January and February 2018.
Our source at the Public Service Commission said the Mugabes "should be pleased that their pensions are coming on time and in cash when under his (Mr Mugabe's) administration civil servants and pensioners were never sure of when they would be paid".
The source also said they found the arrangement "quite uncomfortable" seeing as Mr Mugabe had "preached plastic and electronic money use by day while leaning on bureaucrats to give him cash at night".
Official comment could not be obtained from the PSC and the Office of the President and Cabinet.
However, when asking a senior official in the President's Office if it was normal practice to pay Heads of State and Government in cash, more so in a country facing liquidity challenges, our Harare Bureau was told that President Emmerson Mnangagwa, who took over from Mr Mugabe, had been left bemused by the arrangement.
"I can tell you for a fact, because I was there, that a lady (name withheld) from CBZ Bank came with a sack of cash to President Mnangagwa's Office when his first pay day arrived. The President asked her what the money was for, and she pulled out a form and said it was his salary and he must sign for it.
"The President said it was highly irregular and irresponsible, and the lady indicated that cash salary payments were standard for the old man (Mr Mugabe) and she assumed that was how things were done for the highest office in the land.
"His Excellency gave her his bank account number and told her to do a transfer as is done for everyone else, and told her that if he needed cash he would queue for it like everyone else because the cash shortages affected all Zimbabweans and he would demand no such preferential and irregular treatment."