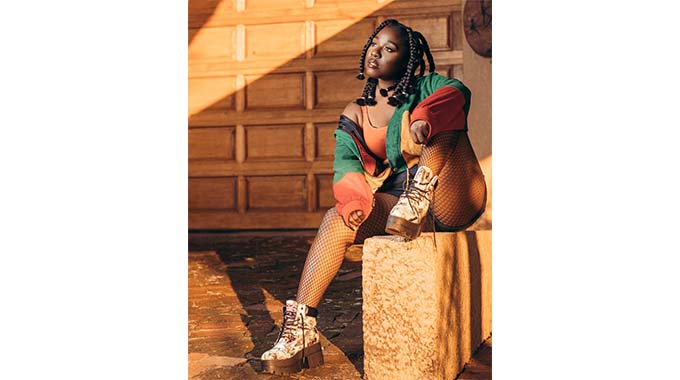 The Sunday News
Langalakhe Mabena
It's a dream come true!
Bulawayo Pumula South-bred songstress Roselyn "JØY" Rukanzakanza has finally fulfilled her dream of working with South Africa's most sought-after rapper KiD X as the two have shared the booth on a single project.
The 24-year-old lady successfully released a single titled New Day featuring the Caracara hitmaker. It is also accompanied by visuals. The song was produced by Bulawayo producers Murphy Cubic and Phanankosi "Phanas" Dube.
From her base in the United Kingdom, JØY revealed that her latest single has brought "joy" into her life.
"I have always admired KiD X since I was young. I became a fan of his music since Caracara (featuring KO) and I would always do beautiful covers of his song Mtan' Omuntu. One day he went live on Instagram and asked his fans to propose requests to him. I took a leap of faith and sent a request among thousands who were also tuned into the session," said JØY.
She continued, "To my surprise, he gladly accepted the request, sighting how he felt obliged to have a chat with me as I had shown him so much support in the past which he was truly grateful for."
JØY revealed that she developed a great relationship with KiD X in the long run and one day she garnered the courage to ask him to feature on her album and he accepted leading to the birth of New Day.
The single which has been receiving so much love from different parts of the world and gathered thousands of views in days on platforms such as YouTube has since changed JØY's life.
"Working on New Day with him has changed my life as now I know the offering will make me known in my hometown Bulawayo and the rest of the world. I learnt a lot from him on the recording session as I grasped a lot of musical production techniques," said JØY.
Meanwhile, JØY is set to release her first 12 track album titled Matter-More-For-Sis by mid-year which she said, "will be about love and re-imagining it."
Apart from music, JØY works as a Technology Analyst for an asset management company called BlackRock in the UK.
She graduated magna cum laude with a degree in International Studies & Africana Studies from Bryn Mawr College in Pennsylvania, USA.