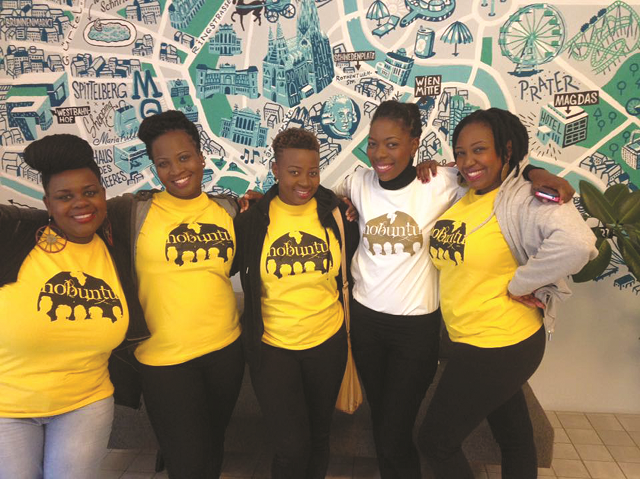 The Sunday News
Bruce Ndlovu
AFTER setting the pace as one of the city's finest imbube groups, all women ensemble, Nobuntu, want to once again raise the stakes with an album that will see the group return to imbube in its purest form.
The group has in the past earned plaudits for its music, emerging as one of Zimbabwe's most travelled groups as they go around the globe preaching the imbube gospel.
However, as good as the group's first two albums, Thina and Ekhaya released in 2013 and 2015 respectively, the group believes that 2018 is the year in which they will finally deliver the imbube album that lovers of the genre have been yearning to hear.
Titled Obabes Bembube, the album title is a colloquial for "women of acapella" and the group said the music that it contained would "represent a bold shift from the previous bodies of work which featured a fusion of afro jazz, acappella, gospel and traditional folk tracks. Obabes Bembube asserts Nobuntu's position as a musical force in Imbube (acapella), a genre that was traditionally male domain."
This is a view that group members stood behind in a video released by 10th District Music, their managing stable.
"We've been called obabes bembube and so we thought why not honour that and really do a typical imbube album," said Zanele Manhenga.
With their third album on the horizon, the group still prides itself in breaking down gender barriers.
"Imbube was usually done by men and the fact that we are doing imbube as women is exciting and I love the songs because they relate to me," said Joyline Sibanda.
With their latest album, group member Thandeka Moyo said that they aimed to uplift their listeners with tunes that were written with the intention of touching lives.
"What I can say about this album is that it's very uplifting. It's very spiritual and the songs that are there talk to the soul. They really appeal to that human spiritual side of people and we're hoping that people feel what we felt when we were writing the songs," she said.
Joyline Sibanda meanwhile, emphasised that the group would this time make a purely imbube album.
"Through the years we've been doing mixed genres, doing imbube and some other songs that are not really imbube but this time we're doing imbube as it is." she said.
The eclectic mix that characterised their first two albums would be abandoned, said Heather Dube.
"The past two albums that we did had a mixture of imbube, gospel acapella and we had to put some instruments on some of the songs," she said.
However, coming up with the project had not been easy, as they had to put their heads together and come out with a vision that they thought would deliver the right quality of music.
"We really had to sit down and deliberate and say this song you've brought it but it has to come out as an imbube song. Then we started reshuffling melodies and even words around," said Zanela Manhenga.