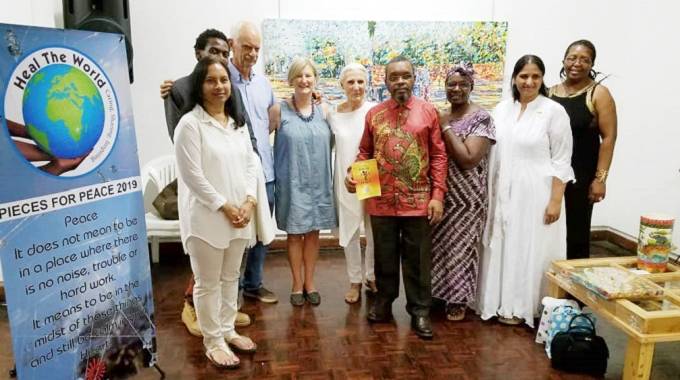 The Sunday News
Judith Phiri, Sunday Life Reporter
PERHAPS the most well-structured and organised arts exhibition to date at the National Gallery in Bulawayo — Pieces for Peace art exhibition was a tremendous success whose aim was to preach peace in the wake of recent disturbances witnessed in the country.
The exhibition was organised by curator Talent Kapadza who showcased amazing artworks from drawing, graphic design, photography, print making, textile design, three dimensional design, industrial design and specialization.
Addressing people who attended the exhibition, the guest of honour, National University of Science and Technology vice-chancellor Professor Mqhele Dlodlo said peace is essential in people's lives.
"Artists through their works are able to speak out against violence and call on peace through visual art works. Peace in dictionary fashion can be viewed as a state of serenity or tranquillity. In this case we can give examples of freedom from civil disorder and anarchy, or we could say condition of order and security," said Prof Dlodlo.
He encouraged people to further seek peace in their lives as a way of living in harmony.
"True peace can only be established at the core of each individual that desires peace and all the peace efforts that we have seen are just pieces of the peace puzzle. We must keep doing our part in putting the pieces together and push for peace such as only God in our inner beings can give," he said.
He added: "We can not afford to give up. Instead with every escalation we must just make greater efforts to persuade individuals to search themselves and establish the sources of violence therein. Only then can they start the inner healing process that leads to peace."
Kapadza and a group of artists presented different genres of arts that play a pivotal role in the fight against social ills and shaping a community. He said the aim of the artwork was to stimulate peace.
"We hope to bring pieces together which generate peace and which through consciousness brings us together in harmony. The paintings and works of art stimulate a thought process bringing us to a comprehension of the dynamic of peace.
"Peace does not mean to be in a place where there is no noise, trouble or hard work, to be free of challenges in relationships and circumstances. It means to be in the middle of those things and be calm, stable and still and consequently perceptive and accurate," said Kapadza.
Meanwhile, speaking at the same event Brahma Kumaris Raja Yoga Centre and Pause for Peace organiser Sister Shuna Herscovitz encouraged people to join the Pause for Peace initiative being carried out country wide designed to teach people from all ages and from all walks of life how to pause, reflect, calm the mind, think objectively and respond from a place of neutrality, emotional calm and mental clarity rather than from a place of reactive self-defence, fear or anger.
She also encouraged people to visit the Brahma Kumaris Raja Yoga Centre and get free courses on raja yoga meditation, stress free living, positive thinking, anger free living, self leadership and harmony in relationships.