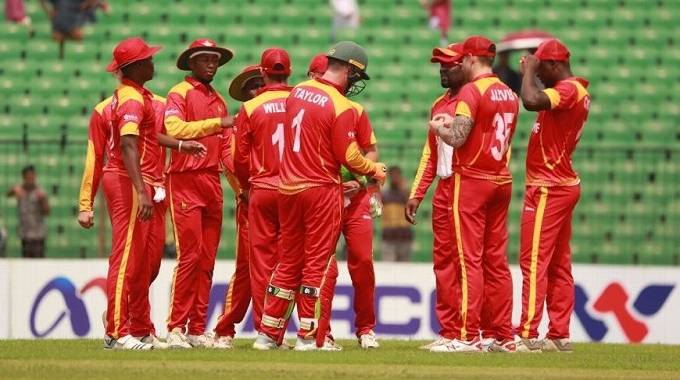 The Sunday News
Mehluli Sibanda, Senior Sports Reporter
ZIMBABWE Cricket recently asked their director of cricket, Hamilton Masakadza to come up with a turnaround strategy for the senior men's national team, a plan that should have been in place ahead of the tour to Ireland this month.
The Chevrons have been struggling in the international game, which recently saw them come out second best at home against Bangladesh in the three formats of the game. Zimbabwe lost the one-off Test, got whitewashed 3-0 in the One Day Internationals and went down 2-1 in the Twenty20 International series.
World renowned psychologist, Adrian McInman has proffered his views on why the Zimbabwean team is struggling on the international scene. McInman is a cricket psychologist and author of two books. He has also worked with Zimbabwean cricketers in the past.
He blames the financial situation for the players not performing as they should be doing in international cricket. At the beginning of last year, ZC decided to slash salaries for players after funding from the International Cricket Council was reduced.
"One thing many of them express is the financial problems they are experiencing. As a result of not feeling comfortable financially, many of them are not thinking in an ideal clear mindset. They are anxious about finances while going to and from training and to and from matches. Hence, they can't train as effectively, and thus in matches, they are not ideally ready to perform at their best.
"When I was training the men's team in 2020, they were having their payments slashed, and thus found it hard to concentrate appropriately at training. Another problem with not looking after the player's finances is some end up feeling not respected and so this makes performing phenomenally even harder,'' McInman said.
McInman attributes the poor display against Pakistan at home to a lack of strong mentality from the Zimbabwean cricketers. He pointed at the fact that Pakistan are arguably the most historically inconsistent of all international teams and they were playing away from home in the April-May 2021 Test series against Zimbabwe and the home team should have capitalised.
"So, you would think Zimbabwe would have reason to believe they could do well. However, in the first Test match against Pakistan, none of the Zimbabwean batters scored a half century. Zimbabwe was not ruthless. They did not ooze confidence. Instead, three Pakistanis scored half centuries or more (60, 91, 140 runs).
"In the second test, Zimbabwe was so comprehensively thrashed that Pakistan only needed to bat once. You can't tell me the problems were fully related to the conditions and technique, as after all, Regis Chakabva scored 80 in the second innings. How could Regis score 80, but no one else get a half century, especially considering three of the Pakistanis got half centuries or more (97, 126, 215 runs)?
The answer is simple, the mentality of the squad needs more genuinely-felt mental toughness and happiness,'' said McInman.
He believes that there is nothing out of this world that the teams Zimbabwe play that the Zimbabwean cricketers do not have.
"There is nothing special about the genetics of most of the other international teams that the Zimbabwean team plays against. Sure, the domestic system in Zimbabwe is not as strong as in other countries, but the reality is, you do not need a strong domestic system full of other teams, for your international team to win overseas. What you need is for the team to be happy, happy as a team and happy as individuals.
"You also need one other thing, you need them to be mentally tough individuals. By being mentally tougher they will make better decisions, handle life issues better, especially related to quarantines and bubbles, be more open-minded, and be more conscientious. They will train harder, be more open-minded, and be more willing to learn how to train smarter,'' he said.
McInman emphasised why the mental side of things is so important in the modern world of sport.
"Why is the mental side of sport so powerful? Because everything starts with your brain. When you hit a ball, your brain causes it to happen. When you bowl, your brain causes it. Most people say the brain is the most important part of the body, but those are hollow words with no positive ramifications. What is happening with your cricketers. They do not train their brains in a consistent, comprehensive, scientifically-proven effective manner,'' McInman said.
He feels there is a need to invest in sports science research if the Zimbabwean team is to be successful because Zimbabwe's opponents have that advantage.
"The sports research community has accumulated an amazing number of great findings that virtually none of your cricketers know about because most of the staff have no idea about the information and thus don't ensure the cricketers get such information.
"In contrast, other teams are exposed to better information and more modern approaches. Let's take Afghanistan for example. One of the support staff is quite educated and as a result, understands and constantly is looking for sport science research that shows how to perform better and then he transmits that to the players and support staff and support,'' said  McInman.
The New Zealand born McInman believes Zimbabwe could be a powerhouse in international cricket. He points out that those who do not accept such should look at a country like New Zealand, which has a tiny population of four million but is number one in Tests and ODIs.
"Zimbabwe can become a powerhouse in cricket. If you don't believe me, look at the team rankings, tiny New Zealand, with only four million people, is positioned as number one in two of the three versions of the sport. If they can do it, with their lousy weather, then Zimbabwe can do it.
"All you need is one elite mental skills expert and the mandate that such training will be compulsory for all squad members, comprehensive, intense, and consistently participated in over a two-year period. Next thing you know, all of Zimbabwe will walk with more pride as your boys will be the talk of the nation,'' reckons McInman.