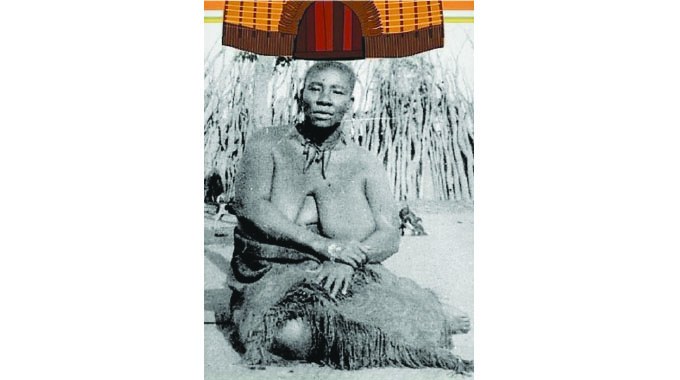 The Sunday News
Bruce Ndlovu, Sunday Life Reporter
THE story of her life reads like it was ripped from the pages of a Marvel or DC Comic book.
It is a story of courage, a story of battles fought, won and lost. It is a story punctuated by political scheming and intrigue, a story whose pages are filled with tales of bravery and war, with yarns of power and death.
Such tales of intrigue and high-risk adventure would not be out of place in comic books, whose pages are regularly stained by the blood split by its female heroes.
In the Marvel and DC comics, these women slay men and monsters, defying the odds as they stand tall for their people, shedding blood and breaking bone for humanity.
But Queen Lozikeyi Dlodlo was not a fictional character in a comic book. She was a woman of flesh and blood, who could bleed if her skin was sliced by a knife or pierced by a bullet.
Unlike the heroes in those blockbuster movies based on comic book heroes, she had a lot to lose, including her life. The consequences of her actions were real.
They were very real at the Battle of Pupu-Shangani where bullets flew and her life could have been one of the many lost on that fateful day in 1893. A bullet that, on any other day, could have had her name on it, is still lodged on a tree at the historic site.
In the age of social media, far away from the world of horse-drawn carriages and recoil operated Maxim guns that spate death, Lozikeyi's story has found fresh impetus.
On social media, some have chosen to reincarnate the legend by using her storied name as their twitter handles. One online ice cream seller has even invented a flavour after her. "The Lozikeyi flavour's creamy crunchiness is crafted for the powerful and resilient who take the bull by the horns," an advertisement of the ice cream reads. Lozikeyi's revolution was not televised a century ago but in the digital age, it just might be livestreamed.
In the arts, Amakhosi has been threatening a play on the queen, with Sandra Ndebele set to bring her back to life on stage. The same has been mooted for Intwasa, where a production on Lozikeyi is set to be the centrepiece of the city's biggest festival this year.
Over a century after her death, Lozikeyi has clearly found a new lease of life. But why the sudden interest in her life, particularly by young arts practitioners?
"The consciousness that is happening right now about legendary female figures of Matabeleland like Queen Lozikeyi is twofold," Amakhosi founder and arts guru Cont Mhlanga told Sunday Life.
"The first thing is that young people are getting more information about the legendary women of Mat'land who wielded political power. The problem is that the history of these women was not told both before and after independence. Their history was not told. It was later that their history started to filter out and young people found it here and there. That's why this consciousness has risen and keeps rising as more information gets thrown to the public."
Mhlanga said this would not be the first time that Amakhosi worked on a production centred on the eventful life of Lozikeyi. This time however, the story would be told in front of an audience hungry for any new revelations about the queen that led a besieged nation into battle.
"As Amakhosi this is not the first time that we have written about Queen Lozikeyi. We wrote a musical called Inyelane. It was a play about Inyelane (Ndebele name for Pioneer Column) and Lozikeyi's resistance of it as it came in. It is about the politics in play at the time with Izinduna and how she had a lone battle as another female power, Princess Mncenyence, had been eliminated. Her death had exposed Queen Lozikeyi to be a lone fighter against the Pioneer Column.
"She pushed a lot of izinduna to the edge about decisions made and finally succeeded in convincing them that Inyelane should go up north. It is these stories we were telling through a musical and we invited Sabelo Ngema, the brother to the legendary Mbongeni Ngema, to do the music and choreography.
That's when the stories of these legendary women started filtering out. So, when we speak of doing another story on Queen Lozikeyi, it is just another chapter," he said.
From Lozikeyi to Princess Famona, Mhlanga said there was a history of fierce women leaders that had not been told in full until now.
"If you know some of the legendary politically powerful women of Matabeleland, you would understand when we say that oppressing women is not African culture. It is an Anglo-Saxon tradition to oppress women. You know the roles and power wielded by pre-colonial women in African society.
All along young women were made to believe that these figures did not exist but they did and one of the richest and most powerful politicians in Lobengula's kingdom was Princess Mncenyence, his sister.
"She literally ran the government to an extent that izinduna convinced the king to assassinate her. These are stories of women's power that have not been told. When Mncenyence passed, you then understand why Queen Lozikeyi became weak. She had lost a pillar.
You talk of Princess Famona who was literally fighting for the Bulawayo Golf Course, the oldest Golf Club in the country. It is what led to the 1896 uprising because she was saying white people cannot take over their river and build a golf course while their cattle and their girls do not have a place to fetch water.
These are simple heroic and historic stories that are not told and these are the ones that excite young people," she said.
For poet, actress and musician Lady Tshawe, the increased interest in Lozikeyi's life can also be attributed to the increasing visibility of successful women in various spheres of society.
"I think people want to start reclaiming a part of history. This is an attempt to reclaim a history of tribe, to reclaim a history of the city and the region, I think. There is so much history that if you unpack the history of one person you see other stories being unpacked through that one figure.
". . . We are also living in a time when we are seeing the rise of women in different sectors being celebrated. We are seeing the rise of female leaders and it's important that we recognise our own and recognise that came before us. I think people are trying to understand where they are coming from and I think the whole feminist Womandla thing is a big factor in pushing people to want to tell her story," she said.
The celebration of Lozikeyi has an added significance for Tshawe, who shares the same Dlodlo surname as the fearsome queen who struck into the hearts of men.
"For me being a Dlodlo as well, it feels great to have someone from my lineage being celebrated, someone from my lineage being spoken about. It's important to see that happening because it shows that there's worth in someone's story.
"I'm sure where she is buried her bones are happy that her story is being shared and it's being shared by her children. Future generations will know that there was a Lozikeyi who was formidable, who was dangerous and did remarkable things within the Ndebele Kingdom. She shaped the way Bulawayo is perceived, because it's known as KoMfazi utshaya indoda for that reason," she said.
For veteran playwright Raisedon Baya, bringing Lozikeyi to stage would give the festival a chance to replicate the success of Umbiko kaMadlenya.
"Our team has said that from Umbiko, we should not do anything below that production so our pitch has to be Umbiko and above. In the past, we have always said this would be difficult because a bigger cast is normally more expensive. What we have said that well, this year a lot of artistes have not done anything, it would be nice to get a number of artistes to say together can we work on this.
"The appeal around her story is that there is a lot of controversy around and I think as a drama person that offers a lot of possibilities on how to attack the story. For us, that is the most appealing because there is a lot of legend around her story. Who was she? Where did she come from? I think some academics have also thrown around the idea that she was the last king of the Ndebele and that has stirred some controversy. For us, the more drama and talk there is the better," she said.
This year's Intwasa Arts Festival will run from 21 to 25 September.