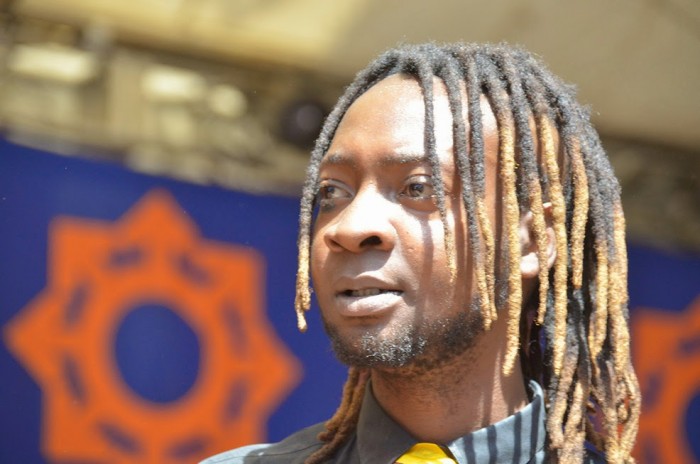 The Sunday News
Bruce Ndlovu, Sunday Life Correspondent
IN 2012, Rockford Roki Josphats' mother, a devout Apostolic sect member, recalled an encounter in the young would-be urban grooves star's life when he was in school.
According to his mother, the young Roki had turned up at Cranborne Boys High School, with his uniform inside out, with the pockets dangling at the side.
According to his mother, Roki merely wanted to see how people would react. It was a daring stunt that was witnessed only by the young Roki's parents, teachers and mates — a private bit of mischief that only gained fame in his immediate circle.
Ever since he quit school and decided to pursue showbiz, his stunts have become a national spectacle. Pot bellied and not as nimble as his feet as he was back then, the young and rebellious Roki keeps rearing his naughty head time and again to a nation's frustration.
His latest bit of infamy came last week when it emerged that he was on the run after he allegedly beat up his girlfriend, Nyasha Valerie, broke into her house and stole all the furniture before disappearing. Earlier in the year, his thoughtless violence had allegedly led to her miscarriage.
It was a bit of waywardness that cemented comparisons to American Chris Brown, whose continuing story looks unlikely to have a happy ending.
If there are two individuals that would be perfect candidates for residence at Wacko Jacko's Neverland Ranch it's Josphats and Brown.
Neverland Ranch is Wacko Jacko's personal piece of heaven named after in the fairytale world of Peter Pan, the boy who never grew up. Brown and Roki's stage acts, where dance is prized as equally as melody, is largely derived from the days when a healthy Jackson used to glide on stage to the thrill of thousands across the globe.
Both attained fame at an early young age, but the halo that used to surround them in the time of their youthful brilliance is fast fading as their antics over the years have provided ample fodder for tabloids while stretching the patience of the devotees.
Roki's love-hate relationship with the public stretches back to his initial relationship troubles with Pauline Gundidza. At the height of urban grooves, the two were held up as an example of young love, a love that was willed on by thousands of Zimbabweans who expected it to bloom and flower into full promise in front of their TV sets.
Alas that was not to be the case and instead of that love's petals flourishing and blooming in spell-binding colour, it wilted and died in the face of one public bust-up after another. A life lived in the spotlight seemed to have strangled the life out of their glamorous union. The jury sat and the court of public opinion deemed it that the two, especially the "boy" Roki, had been too young for a relationship especially with their chosen line of work.
Then came the chance at public redemption and image rehabilitation during Big Brother Africa Stargame. For a while, things went swimmingly, as Roki wowed Africa with his ability to be spontaneously light-hearted one moment and "deep" the next. His boyish exuberance seemed to contrast sharply with the other celebrities in the house who seemed to take themselves too seriously, even though they seemed to lack his analytical grasp of issues. The intelligence that music industry insiders had always been at pains to point out was there and laid bare for all to see.
For weeks, Africans were able to gaze and marvel at the goldmine that is Roki's multi faceted mind as he jumped from one nugget of brilliance about the music industry to musings about his own life, all the while dropping gems about the much maligned continent.
But his boyish exuberance was to be his downfall again, as he failed to diffuse the explosive Maneta and allowed a minor scuffle to degenerate into a scuffle that led to their premature eviction from the house. The "boy" had not grown up after all.
The relationship with Ammara Brown was another chance for Roki to show that he had exorcised the demons that had haunted his high profile hook-up with Pauline years before.
However, this was not the case, with Roki last year indicating that their careers had rendered rivals, a couple who shared a bed but knew that come cockcrow they will have to outdo each other professionally.
"Ammara and I were two very strong forces that in the end seemed like were in opposition. The biggest thing about us is that we are both artistes, so we were usually pulling against each other," he said.
The latest accusations of assault, suggest that a year later, there is nothing vastly different between Roki from 2006 and his current incarnation.
While his legal troubles are well documented, Chris Brown has also took enough care to make himself deity of sorts by quelling the critics with an endless stream of hits that just keep flowing.
His acolytes dare not stop believing in him or his talent. After getting away with brutally assaulting one of the world's biggest pop stars, the only thing the man has not done is turn water into wine. With few of his hits and his oasis of patience with his antics close to running dry, it remains to be seen whether Josphats has the same immunity.