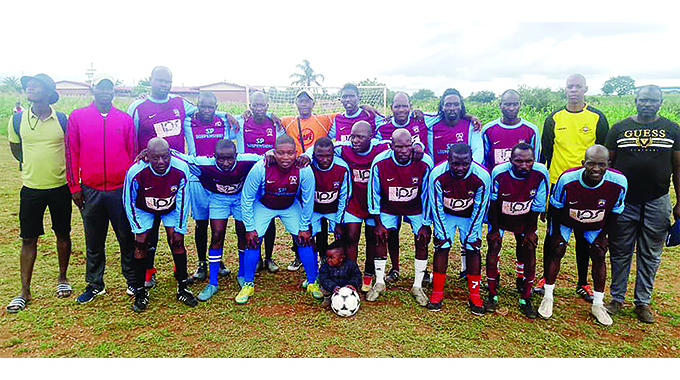 The Sunday News
Mandla Moyo, Sunday News Sports Correspondent
Reigning league Champions Emakhandeni United (Man U) are hoping to return back to winning ways when they clash against Zulu Chiefs after they were shocked 3-2  by Mthala last week. 
A win by Man U keeps alive their hopes of making it into the Bulawayo Social Soccer League Champion of Champions tournament at the end of the year to defend the crown they put on last year. Man U Assistant coach Josiah Joker Kashiri said his team needs to pick themselves up despite their loss of form.
"We will try and pick ourselves up even though we have been blowing hot and cold so far."
According to Kashiri, even though they lost to Mthala, morale within the team was high.
"Morale is never an issue with us but we will try and go back to basics of defending first before attacking as it seems we have been leaking goals lately. If all goes according to plan hopefully we will get three points," he added.
Elsewhere, rejuvenated Stars FC have a tricky assignment away at Makokoba where they are fixtured against the giant killers, Makwee. Based on form, the hosts have been thrown under the bus so to speak.
Another thrilling contest is on at Cowdray Park where unpredictable 94 Strivers host Pool B log leaders Delta. A win by Strivers will keep them closer to the pacesetters while a defeat offers the visitors an opportunity to guard jealously their position at the apex of the log table for now. Strivers captain Prosper Mpofu is aware of the task ahead, for that reason he believes his team needs to rise to the occasion.
"This is indeed going to be the toughest game. We need to pull up our game and utilise the chances we will get. Yes, we might be struggling, but we do have what it takes to disappoint them and claim all the points," said Mpofu.
Matches between Emganwini Legends versus Ndola are always tricky too hence their contest today can go either way. However, the fact that Legends are at home swings the pendulum in their favour.
Week 13 Today's fixtures
(Kick off 11 AM, unless stated)
Group A 
Brotherhood  vs Edgars (Desert), Zulu Chiefs vs  Man U (Marisha), Iminyela  Timers vs Creamtata (Iminyela  1), Cowdray Masters vs Patapata (T.M Cowdray Park), Glenkara vs  Fireworks (Somhlolo ), Old Timers vs 70 Combination (Pumula North), Makwee vs Stars (Mazayi), Mthala vs Tigers (Bango), Vulavale vs Fund'kulinda (Magwegwe West),  FC Pirates vs  Magwegwe Bullets 
Group B 
West Comm vs  Congo Chiefs (Induba Pry School ), Khami vs Wembley (Khami ),  Emganwini Legends vs Ndola (Food 4 Less, 1 PM), Robert Sinyoka vs Pioneer (Robert Sinyoka),  94 Strivers vs Delta (TM Cowdray Park 1PM), Osiphatheleni vs Bombers (Crescent), Mabuthweni vs Happy Valley (Insukamini), C.T vs Gwabalanda (Luveve, opposite Stadium), Nketa vs Santos (Nketa), Hyde Park vs Pelandaba (Hyde Park Shops)
Group C
Nkulumane vs Shwelele (Phekiwe), Emganwini Celtics vs 11 Stars (Food 4 Less), Bangane vs  Real Shwelele (Choppies Nkulumane 11), Skippers vs Zobha (Bango), CIWU Legends vs Mex Mawaya (Desert, 1PM),  Matshobane vs South Gunners (Matshobane), Real Magwegwe vs Finance (Magwegwe High), Luveve vs Mayihlome (Chigumira), Siyabangena vs New Jack City (Phekiwe, 1PM), Sekusile vs Wolves (Nketa)