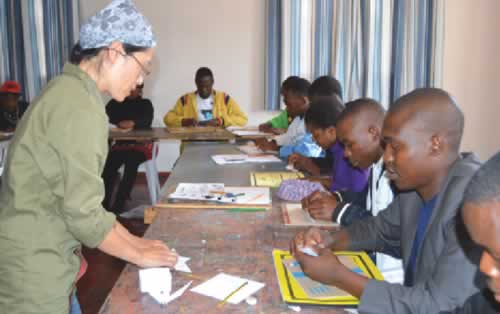 The Sunday News
Nothando N Ndhlovu
PHILOSOPHER Philip Dormer Stanhope once said, "Idleness is only the refuge of weak minds, and the holiday of fools" and idleness among Bulawayo youths has driven them into delinquent behaviour and activities.
Stone House Arts in association with the Art Gallery is curbing idleness, which could later develop into delinquency, among Bulawayo's youths through the At Risk Youth After Schools Programme.
The programme, as the name suggests, targets vulnerable city youths who may be caught up in loitering which might lead to substance abuse, child prostitution and contracting of STIs.
It is in its fourth week at the gallery and is intended to be a permanent programme for Bulawayo youths.
Kingdom Williams of the At Risk Youth After Schools Programme, said if the programme was successful, they would start an art school which focuses on teaching and refining fine art.
"Our goal is to strengthen fundamental drawing ability more than talent in those interested in art as a hobby. If not nurtured, talent is worth nothing," he said.
"It's good to have a creative, constructive hobby and those who want to turn the hobby into a career should have adequate skills."
He emphasised the importance of teaching fine instead of abstract art to students, stating that most new artistes preferred abstract art to the former because fine art was more difficult to master.
"To create abstract art, one has to break from fine art. Without fine art you cannot develop abstract art," he said.
"It is important for artistes to know the basics first in order for them to branch out and experiment with other forms of art. Just as we expect a medical practitioner to know the fundamentals in his field, we also expect an artiste to be tested on the fundamentals of art.
"After learning how to draw fine art, artistes can then take risks and break from the rules. You need to know the rules first in order to break them. Artistes need to gain ability and recognition through experience and later on different expressions, styles and movements; that is why we are focusing on 3D drawings, sculpture and origami at the moment," added Williams.
Origami is the Japanese art of paper folding and it reduces idleness. That is why it is popular among both young and old people in Japan as well as other countries around the world.
Williams also stated that the reason why new artistes are not as popular as old ones was because they practise contemporary art and shy away from fine art because there is criticism. As a result they are not known around the art circles.
Williams called for accomplished artistes to develop skills in up-and-coming artistes, in particular fine art skills. He hailed artistes such as renowned wildlife artiste Belinda Marshal, who is well known for her Nguni cattle drawings. He urged accomplished artistes to impart their knowledge to young artistes.
"We have accomplished artists whom we consider as masters in the industry. We need these masters to transfer their skills and that will rebuild and keep up their legacy," he said.
"We appeal to these masters of art to take time off their schedules and teach up-and-coming artistes how to refine their work. If they do not transfer what they know, their knowledge will die with them and we will have a generation of artistes who cannot carry forward their legacy.
Tatenda Mubvumo, an aspiring artiste said the programme had taught him a lot. He has been drawing since he was a child and is passionate about taking on art as a career.
"I have always been passionate about art and I plan on pursuing it as a career. I studied art at Tennyson Hlabangani High School and the Mzilikazi Arts and Craft Centre but I have learnt more here than I ever did at these other institutions," he said.
Khonzokuhle Nkala, an up-and-coming fashion designer said the programme helped him with his designs as he was required to draw. He also added that an artiste made a better designer as he had learnt to pay attention to detail.
Melly Nyoni, another student on the programme, said her passion for art made her take the programme. She intends to use what she has learnt at the programme in her Early Child Development Classes (ECD) as she is currently studying to be an ECD teacher.
Those interested in the programme can attend classes at the art gallery on Saturday afternoons and the gallery also offers classes for children.
The programme has not only inspired youths to take on art as a career, but it has also helped them fuse art with their dreams as they are incorporating what they have learnt into their various career choices.