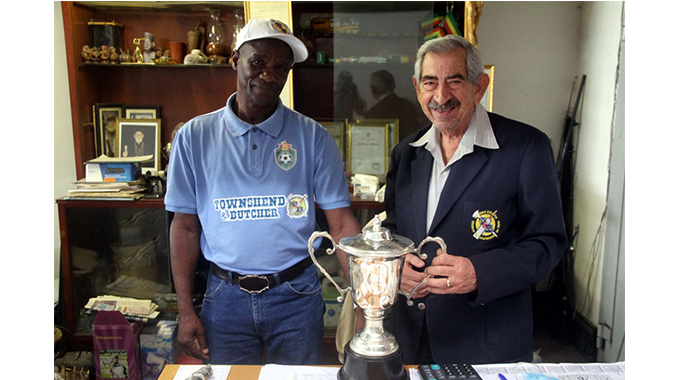 The Sunday News
Ngqwele Dube, Sports Correspondent
THE expanded Townshend and Butcher Trophy is set to get new silverware as sponsors seek to align with the stature the tournament now has.
The tournament has been a preserve of Bulawayo Amateur Football Association (Bafa) teams but last year it was expanded to incorporate other leagues that fall under the Zifa Southern Region Area Zones.
Townshend and Butcher Sports shop proprietor, Peter Leondios, believes the new trophy will give added stature to the tourney that has been running for the past 62 years.
He has already acquired the trophy and would have been presented to this year's winner but the tournament has been shelved due to the coronavirus pandemic. Leondios said with more teams vying for the cup it was natural that a bigger trophy be acquired.
Leagues under the jurisdiction of Southern Region Area Zones include Bafa, Bulawayo Social Soccer League, Bulawayo Christian League, Ntabazinduna Amateur Football League (Ntafa), Golden Oldies Social League and Wololani Football League.
"As Townshend and Butcher, we remain committed to sponsoring this tournament. It has become part and parcel of the company and although unfortunately this year we have been disrupted by Covid-19, we are going to continue bankrolling the cup. The need for another trophy became evident as we have more teams with the profile of the event being higher," he said.
Southern Region Area Zones chairman, Charles Chunda said they were delighted with the new trophy which they take as a sign of the commitment Townshend and Butcher has towards the tournament. He said the new format raised the standing of the trophy.
"Townshend and Butcher has been with us as Bafa through thick and thin and when we suggested the expansion to incorporate the other Area Zones leagues, Leondios gladly welcomed the move and as we embark on a new journey, we felt a new cup would do us well," he said.
This year's tournament would have been the 63rd of the competition and it ranks as the oldest football tournament in the country.