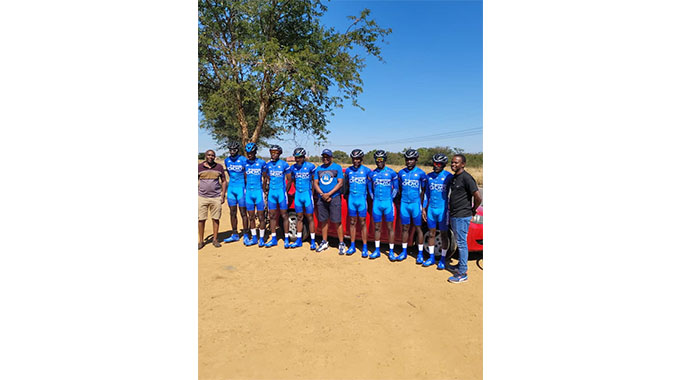 The Sunday News
Ngqwele Dube, Sports Correspondent
WHILE Covid-19 has brought a time of crisis for many with businesses shutting down, workers being retrenched, incomes being reduced, sport coming to a standstill, there have been some success stories caused by the pandemic and one of them is the formation of cycling club, UniMills Hokoyo.
The club, which is made up of eight cyclists, started off as a hobby for sponsor, businessman Davies Muhambi whose flirtations with cycling began as he was filling up time caused by the Covid-19 lockdown that forced people to stay at home. Muhambi said after realising he would be spending more time at home, he revived his passion for exercising and started off jogging but later moved to cycling.
The United Milling Company director said he was into athletics, running for his school and province but at university other habits crept in and he dumped exercising.
"Naturally, when I started exercising during the lockdown last year, my first port of call was running but it later got boring and I started cycling on a mountain bike. A friend Daniel Machemedze introduced me to road biking, which uses the faster-paced, racer bicycles which led me to be part of a group of cyclers. We were informal riders brought together by the love of biking," said Muhambi.
He said his decision to start the club came about after he realised there was a group of talented riders who had a passion for the sport but seem to be struggling financially.
"I believe sport is one of the best avenues through which the youth can be empowered to express their talent and given a platform to succeed.
"Little attention has been given to sport and I think there is more that can be done by both Government and the private sector to ensure athletes can reach their full potential.
"We want our riders to realise their full potential locally and ensure they become intercontinental riders," said Muhambi.
UniMills has eight riders, namely Andrew Chikwava (captain), Advocate Phiri, Mthoko Sibanda, Nkulumo Dube, Thulani Dube, Ralph Mtupa, Gerald Lizwelenkosi and Tapiwa Maleeka.
To ensure the riders focus full time on racing, Muhambi employed them at his company, United Milling Company's marketing department as merchandisers.
He said they saw it necessary to provide them with a salary to ensure they focus on cycling as the sport itself is driven by passion worldwide and there are little returns financially that come from it.
"For UniMills it's about giving back to society and ensuring the riders fulfil their potential in the sport.
"We also supply their nutritional requirements such as supplements, protein, recovery drinks, energy bars and other items to give them the right nutrition. We are also upgrading some of their bikes but while also maintaining bikes to ensure they are in a good shape all the time," added Muhambi.
To enhance their training to reach international standards, UniMills entered into a partnership with Infinita Cycling Academy in the United Kingdom that saw Infinita's head coach, Bosseau Boshoff coming up with training programmes for the local cyclists that are implemented by local coach, Chris Kazingizi.
The club is also targeting to enlist junior cyclists in a development team encompassing boys and girls aged between 15 and 18 years in addition to recruiting female adult riders.