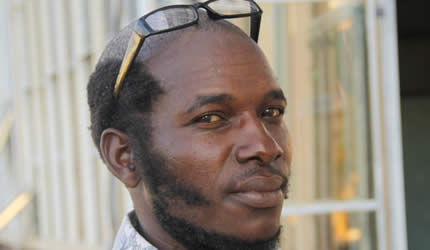 The Sunday News
Vincent Gono Magazine Editor
WHEN his initial productions were hit hard by the scourge of piracy that threatened to sink his career at its infancy, David Mubayiwa of the Sabhuku Vharazipi fame felt hard done and was left counting his losses.
However, he refused to sit back and watch helplessly as his efforts went up in smoke. He decided to get into the streets and sell the DVDs with members of his cast but he could not be everywhere.
Mubayiwa never thought one day he will reap the fruits of his seemingly unrewarding career but now things are promising as he has been approached by some companies to do commercials on TV and radio for them, something he said was paying better than producing and selling DVDs.
"We almost quit the whole thing but somehow, some companies noticed we can do some business for them and approached us. We are doing commercials for them on TV and radio and it's paying better. We are also involved with NGOs and some corporates," he said in an interview.
He called for more corporate support in the arts sector, saying that was the only way artistes could get something out of their creativity.
Mubayiwa lamented in an earlier interview with this paper that he had nothing to show for his acting career besides fame. Having sold some beasts in the village to supplement the little financial resources they had to ensure the success of Vharazipi 1, the money they got from the production was too little to replace the beasts.
According to him it was even too little to buy a goat. And this was all because of piracy that confined him and the rest of the Vharazipi cast in the murky waters of poverty despite having the talent that under normal circumstances would have seen them getting a quick buck.
Although piracy denied them the financial rewards, it brought them fame as the production became an instant hit and was sought after a few days after its release.
"Piracy gave us fame and not money. Instead of changing our lifestyles for the better we became poorer as we couldn't replace the beasts we sold," he said.
Mubayiwa said he was devastated seeing most of their DVDs selling like hot cakes on the streets while they got nothing out of their sweat.
Little did he know that the name they have created and the fame that piracy helped them build was one day going to see them approached for commercials by big companies such as Boka Tobacco and non-Governmental Organisations.
"These commercials are paying more than the production and selling of DVDs. I am happy we got some sort of consolation for our labour. The production of Vharazipi 1 and 2 did not give us any meaningful financial rewards. But considering how popular the productions were in every part of the country, we could have been financially sound now had it not been for piracy.
"Wellington Chindara and I sold one beast each so as to produce our first act. We even did a Part 2 which was a big hit in the country but to be honest we have nothing to show for it besides fame. We do not have any money in our pockets despite millions of people having watched our DVDs.
"We were hard done by piracy. Millions of our DVDs have been sold across Zimbabwe, Mozambique, South Africa and United Kingdom but the funds were never ours. It is so painful to spend time and money working on a project that other people benefit from immensely while you suffer," he said.
He said he was working with Plan International Zimbabwe in a programme called Theatre for Development where they were disseminating information to schools and communities about child rights, abuse, the girl child and women issues.
Mubayiwa also revealed that they were working with some big corporates in different promotional and developmental areas through theatre, something he said was giving them some rewards for their labour.
He said the $10 000 donation he got from Zimpapers went a long way in ensuring the success of Vharazipi 2 although he got nothing from the sale of the DVDs as the bulk of them were pirated.
The company donated the amount after realising the relevance of the issues touched in the production in communities.
Sabhuku Vharazipi is a story of a village head who abuses his position to engage in corruption in the allocation of food and inputs as well as tackling issues of women exploitation and abuse of those considered vulnerable.