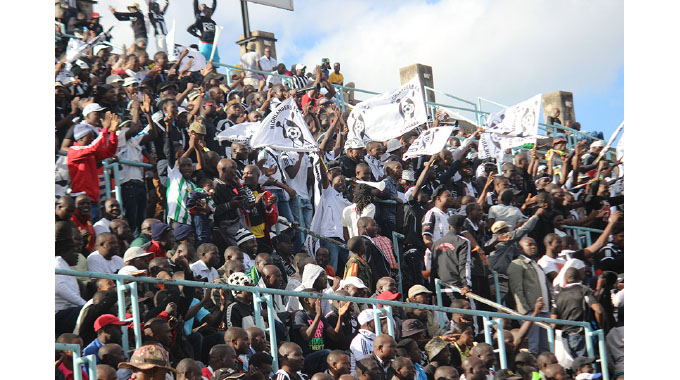 The Sunday News
Vusumuzi Dube, Online News Editor
"It's time to look each other in the eye and say we have to intervene in a radical way."
These were the words uttered by Italian footballing legend and then Parma Football Club coach, Robert Donadoni in 2015 when the club was declared bankrupt.
This was one the biggest football clubs in Italy, founded in December 1913. Now it was on the brink of collapse.
Not only was the team failing to fulfil Serie A fixtures, but several cars belonging to the club had been repossessed, their medical staff's training equipment had been removed so it could be sold at an auction and their laundry service had been cancelled.
Further, their players and much of the staff had not been paid for over three months. Due to their financial woes the club operated under controlled administration from 2003 to 2007 and was declared bankrupt in 2015.
While to many this story might appear secluded from their day-to-day operations, a jacked-up football fundi will see some of what transpired at this former Italian footballing giant happening to a certain local "former" footballing giant.
For many, the year 2021 was expected to be one of festivities as Highlanders Football Club celebrated its 95th-year anniversary. This is indeed Zimbabwe's oldest team, having been founded in 1926 as Lions Football Club, by two of the Ndebele King Lobengula's grandsons, Albert and Rhodes, who were sons of Njube. The team changed its name to Matabeleland Highlanders Football Club in 1936. This history alone has seen the team amass support from millions of people the world over.
However, instead of it being a merry year, this could go down to be the worst years in the team's 95-year history. A lot that once happened at Parma FC is now happening at Bosso, slowly but surely we are witnessing the tick boxes being checked at a steady pace.
The club's principal sponsor, NetOne pulled out meaning the team is currently operating without any major financial backer save for a few micro partnerships. Players are still yet to get their June salaries, while a majority still have not received their signing on fees.
Bankruptcy is now just a foregone conclusion because all the club has its immovable assets, with their coffers obviously dry and the club's executive having no clear framework on how to emerge from this crisis. The only strategy which they have come up with is extending a begging bowel to its supporters, with a facility where they are clustered in groups with various caps of monthly donations from US$2 to US$20.
So far, the only tick boxes that remain to be checked are creditors possessing the club's immovable assets, the team seeking the intervention of the national football government body, Zimbabwe Football Association and finally the official declaration of the team's bankruptcy.
As the team continues to reel in this difficulty, as a journalist and an individual who has constantly unashamedly declared his unwavering support to ithimu yezwe lonke, can I take this opportunity to explore a few pointers that could be leading to this trajectory of events.
The executive being led by Johnfat Sibanda
Sibanda narrowly won a closely contested race for the chairmanship of the team early this year, to rise to the helm of Highlanders. Sibanda, a businessman with interests in pharmaceuticals and farming received 154 votes while Mhlophe, who had been Highlanders chairman since 2018 got 149 votes, meaning he won by just five votes.
However, since his rise to power, it seems Sibanda has been engrossed with trying to verbally convince everyone that his victory was not a fluke. His has been just statement after statement with nothing physical to show that he is now the boss at number 50 Robert Mugabe Way.
I am sure the late James Mangwana Tshuma should be turning in his grave at this moment as he thinks that Sibanda is trying to fit into the shoes which he once stood in. Right now, the chairman should be giving all of us, Highlanders supporters a clear direction, commanding his ship to calmer waters rather than seeming aloof to what is happening.
Will he be proud to go down in history as the chairman who led to the demise of this former giant, just like Calisto Tanzi, the former Parma FC financer? Just by googling Tanzi's name, the only stories that come out are how he contributed to the demise of this former Italian giant. I think the time has come for Sibanda to show his 154 strong supporters that their trust in him was not a mistake. He has to realise that he is no longer just Johnfat Sibanda but he is now Johnfat Sibanda the executive chairperson.
The losing 2021 election candidates
I know I will raise some dust here because this grouping will be quick to say that they accepted and moved on after their respective loses. This include Mhlophe, Israel Moyo, who lost the secretary position to Victoria Falls-based Morgen "Gazza" Dube and Bhekumuzi "Mahii" Sibanda who lost to Mgcini Mafu.
However, it will be unfair for any opinion piece to ignore the whispers in the corridors. It has been whispered quite loudly that some of the losing members are envisaging a quick bounce back into the main frame. Some whispers have even suggested that sponsorship coffers have been locked to force members to pass a vote of no confidence on the current executive.
It has further been suggested that the chairman (Sibanda) was forced to issue a humiliating public apology, as it was said the financial powers were not happy with statements he made before, on and immediately after his election. We are told some of the players are in the payroll of some of these losing candidates, to an extent that they even penned a letter demanding the resignation of the current chairperson (this whisper was much louder).
If these whispers are indeed true, disappointing as it might be, my plea is for these members and their supporters, for now, to realise where the ship is headed.
For crying out loud they are not the first people to lose an election, legendary former executive members like Roger Muhlwa, Peter Dube and Themba Ndlela vacated positions at Highlanders but they accepted the results, continued supporting the team and moved on. If we continue on this trajectory we will be the ones to be telling our grandchildren that; "Kwake kwaba lethimu okwakuthiwa yiBosso . . ."
The Bosso secretariat
"The CEO will be responsible and accountable for the day-to-day operations of the club. He or she will be expected to deliver the club's strategy and to implement decisions passed by the congress and the executive. The CEO will also be responsible for developing and implementing the club's strategic plan as well as to drive the club's businesses to profitability."
The above were some of the duties bestowed on the current Bosso CEO, Nhlanhla Dube upon his appointment in May 2017. Maybe, since this is a position from the commerce school of thought, a quick browse of corporatefinanceinstitute.com, the CEO is; ". . . the highest-ranking individual in a company or organisation. The CEO is responsible for the overall success of a business entity or other organisation and for making top-level managerial decisions."
Acceptably, because of the Covid-19 pandemic, things are not easy being the CEO of a community team like Highlanders. Companies are struggling, hence the question is who will then want to sponsor soccer, with its current inactivity?
Besides, it is not us as supporters to answer this question at all, actually, we are not even supposed to reach that stage, the CEO should be identifying possible revenue streams and informing us (through the executive chairperson of course) what route we are to take.
It is so embarrassing such that a leader of a certain Apostolic Sect church recently came out in the press saying the team actually went to him begging for grocery contributions. Honestly how many corporates are there in the entire country, corporates that will do anything to partner the big brand of Highlanders, even to donate monthly food hampers to players as part of the sponsorship, anyway it's my thinking, a mere journalist without any administrative experience. So to my brother uMthembo ozithembayo please make us supporters trust you as your totem implies, dinga imali mfowethu.
The supporters
A couple of weeks ago, the team's treasurer, Donald Ndebele extended a begging bowl to the supporters to come up with monthly contributions towards the team. Highlanders categorised the contributions from US$2, US$5, US$10, US$15 and US$20. A colleague of mine, Mehluli Sibanda, knowing how dear I hold this team informed me that WhatsApp groups had actually been created according to these categories.
Being a journalist who does not earn an over-the-top salary, I requested that he shares the link of the US$5 monthly contributions. Lo and behold, when I entered the group, I discovered it just had 52 members.
Just out of curiosity I then checked the other groups, as of Thursday, for the US$2 contributions there were 19 members, US$10: 51 members, US$15: 19 members and for the US$20 contributions there were 51 members.
Ladies and gentlemen, where are the so-called Bosso supporters, where are the fans that used to fill Empankweni, Soweto and Edgars wings every Sunday. Have we turned into desktop warriors who are quick to criticise the leadership on social media without contributing a cent to the team?
For crying out loud we are the first to boast that we are a community team but how then do we expect the team to survive if community does not play its part. Imagine if just one million supporters contribute US$1 each.
I was especially touched this past week when former board member Retired Colonel Thomas Ngwenya donated $1  000 of his pension payout to help the club meet its obligation to pay players and workers. If we had just 10 000 more of the supporters doing the same, imagine what it will mean for the team's financial status.
Let's stop pointing fingers but look at ourselves, asizinukeni amakhwapha maBossolona, this team cannot die in our lifetime.
The fourth estate
To those that might not know, the fourth Estate are the journalists (me included). As journalists we have done this team a clear disservice, not only have we engrossed ourselves in the politics of Highlanders but we have now become part of the various warring factions.
Reading a story involving Highlanders is frustrating nowadays because you would know that the reporter will be propping a certain faction hence the article or news report will be glaringly so one sided.
The time has come for us as journalists to distance ourselves from the internal fights in this big institution and report things as they are.
We cannot be aiding the demise of this team because of a few pieces of silver. Right now the "loud whispers" referred to earlier on have certainly crossed our desks but seems because of our inclinations the hard questions cannot be asked so as to get to the bottom of this. Maybe the articles are yet to come but to date I am yet to see an article impartially exploring the problems within Highlanders.
. . . and others
Well there are a lot more categories which I won't touch on for now but all are contributing to the demise of this once big team. I will not talk about the so-called board because my personal opinion is that I do not even see the contribution they are making to the team, save for furthering the factional fights, without proffering any realistic solution.
As I end this piece let's hope as supporters, we will regain our sanity and not allow this team to die a natural death. Bosso Ngenkani!