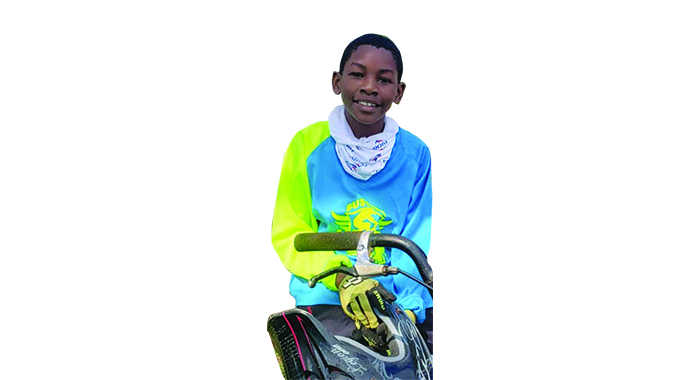 The Sunday News
Ngqwele Dube, Sports Correspondent
YOUNG BMX rider, Prince Sithole's hard work on the track has paid off after being selected as part of the Zimbabwe team that will take part in the 2021 UCI BMX World Championships scheduled for next month in Netherlands.
Sithole (12), the only rider from Bulawayo included in the team, is excited about the prospect of meeting top riders from all over the world at Papendal in Arnhem 14 to 22 August. The Queen Elizabeth Adventist Primary pupil said despite being surprised by his inclusion in the team he is hard at work training for the event.
"I was surprised when I was told that I was included in the team but I am happy and excited thinking about going there and competing against other top young riders. I'm training hard to ensure I do well in Netherlands," he said on Friday.
His coach Tatenda Mbalame said Sithole showed talent the moment he began racing and coupled with dedication and commitment to the sport, he has managed to excel at various races.
"He is disciplined and dedicated and I believe this has contributed to his success as he has won several championships and also represented the country in South Africa," he said.
Other riders that will make up team Zimbabwe for the BMX World Championships include Roneiwa Ndlovhu (9), Marcus Nascimento (9), Joanna Gore (9), Emmanuel Kagande (11), Emmanuel Gore (11), Nkosi Nkala (8), Joe Ruwoko (18) and Tariq Shelton (11)
Prince's mother, Thembelihle Ndlovu said after clinching the rider of the year and most improved rider last year, the youngster had gained confidence and hopefully will give a good showing. She said what started off as a hobby at Busters Sports Club has taken Sithole places.
"He has been to SA on several occasions and despite being a novice, he has acquitted himself well in the sport winning several accolades. We received his invitation letter this week and I will be going to secure his visa next week in Harare," said Ndlovu.
She however, said with the trip being self-funding she is yet to secure funds for Prince's travels. Ndlovu said she is yet to get the full costs of the trip.