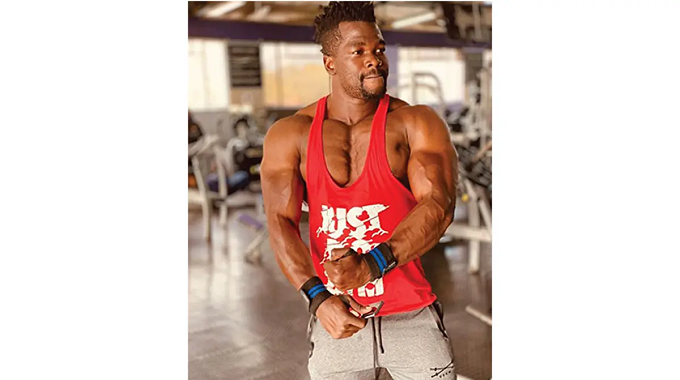 The Sunday News
Brandon Moyo, Sports Reporter
ZIMBABWEAN bodybuilder Tinotenda Ryan Gumbo is set to participate in the International Fitness and Bodybuilding Federation (IFBB)/ National Physique Community (NPC) Pro Qualifier which is on today in Randburg, South Africa.
Having competed in the 2022 Exodus and Company Zimbabwe National Bodybuilding and Fitness Championships held in Harare last week, Gumbo is ready for the challenge that will be posed for him in South Africa. Finishing third in the men's physique over 176cm category, Gumbo believes that it was not a setback but instead a way of testing himself to see where he stands in terms of his fitness.
"To me it was not a setback but a show that I took to see where I need to improve my physique so that I fine tune and make sure that I bring the best package for the NPC. It was a good venture, coming third because we now focus on areas that I needed to improve on, so we are now ready for the NPC," said Gumbo.
The overall winner of the competition will be awarded a pro-card which is every men's physique athlete's ultimate goal as it provides the privilege to compete anywhere in the world in pro-shows.
With the show happening once a year in South Africa and only one athlete getting the chance to be awarded the card, Gumbo is expecting a stiff challenge across the Limpopo River today when he goes on stage.
"In South Africa they only have NPC shows once a year and they issue one pro-card for the overall men's physique, so it's a very tough competition because that is what every athlete is eyeing, every men's physique competitor is working hard to ensure that they get the card," said Gumbo.
In Harare, Gumbo lost to David Weier, who finished first while in second position there was Blessing Itai Sithole.
With Zimbabwe not having any pro-card holder, Gumbo said they (including other Zimbabweans going to the event) are ready to leave their all on the stage today and have the first card holder in the country.
"We are ready to do our best and we just hope we win the overall line-up and get the IFBB pro-card. We don't have an athlete that has an IFBB pro-card in Zimbabwe so we are looking forward to having the first athlete get it in the men's physique division," he said.
Other Zimbabweans that will be participating in the event are Sithole, Regina Jonga, Shantel Bhatch and Lynette Tom. – Follow on Twitter @brandon_malvin