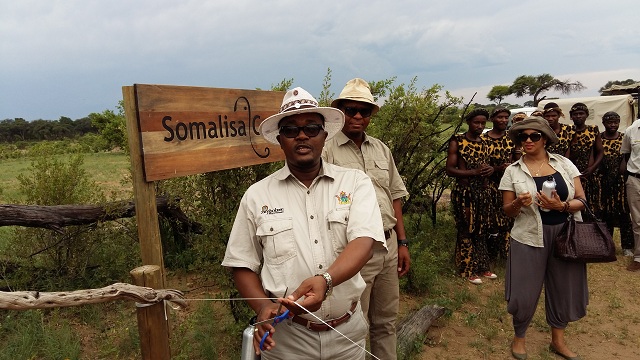 The Sunday News
Roberta Katunga in Hwange
TOURISM and Hospitality Industry Minister Walter Mzembi has urged the Zimbabwe National Parks to create models similar to the Somalisa camp so as to harness the country's natural resources and make use of the vast bushy area that makes up about 40 percent of Zimbabwe.
Somalisa camp, owned by hospitality group African Bush Camps and located in the heart of Hwange National Park recently received a facelift worth about US$3 million. Speaking at the official opening ceremony on Friday, Minister Mzembi commended African Bush Camps for turning adversity into opportunity.
"Climate change is now a perennial phenomenon and is challenging us to be creative with this economy that we call Zimbabwe. Instead of the aridness of this region deterring African Bush Camps, it is lending itself into a natural habitat for animals and the biodiversity itself becomes the key product for tourism," he said.
Minister Mzembi said the country's biodiversity was the anchor of its tourism and gave it a competitive edge globally.
He said for indigenous businesspeople to succeed and derive maximum value for the land, it was important to cross the line of prejudice and hire skilled experts, notwithstanding racial lines.
"It is important for our entrepreneurs to copy the Dubai model of doing business. More than 6 million people in Dubai are from all over the world lending their skills to its growth while the citizens of that country remain the custodians of the land and resources. There has to be a meeting point between custodianship and productivity as witnessed here today."
He commended African Bush Camps for incorporating its conservation management strategy with community development saying that no model works in such a setting without integrating the community and preserving the natural habitat.
African Bush Camps chief executive officer and shareholder Mr Bekezela Ndlovu said the company began refurbishing the camp, which was established in 2007, last year in May and that $3 million was invested in the facelift.
Part of the major improvements to the camp included a Germany imported sewerage and waste plant system that cost $180 000 as well as a solar system for power generation that cost $200 000.
"Here at Somalisa we value conservation and the whole camp is environmentally friendly hence investment in eco-friendly systems like the waste management system that allows us to recycle sewerage water into clean water that can be used for irrigation purposes or as drinking water for the animals," said Mr Ndlovu.
Mr Ndlovu said for tourism to strive in the country, it was important for operators to learn and get ideas from the region as having an understanding of what is happening outside their own borders assists in developing a product.
He revealed that the company was expanding with the prospect of developing another site in Victoria Falls this year and one in Matopos next year.
Zimbabwe Tourism Authority National Conventions Bureau Director Mrs Tessa Chikaponya said as a tourism authority they encouraged the construction of semi permanent structures in parks as diverse products are needed to drive tourism.
She said after an assessment by the ZTA which is responsible for rating hotels, lodges and all facilities in the country, the Somalisa camp deserved the luxury standard rating.
"As you can see from the setup and the rooms as well as the decks, a lot of effort was invested in turning this place into a masterpiece. Bekezela Ndlovu also comes with experience as a former guide and such opportunities should be given to experienced people who will produce the desired effects," she said.
Somalisa camp consists of seven elegantly furnished sail tents with gauze sliding doors with the tents overlooking natural waterholes where herds of game drink.