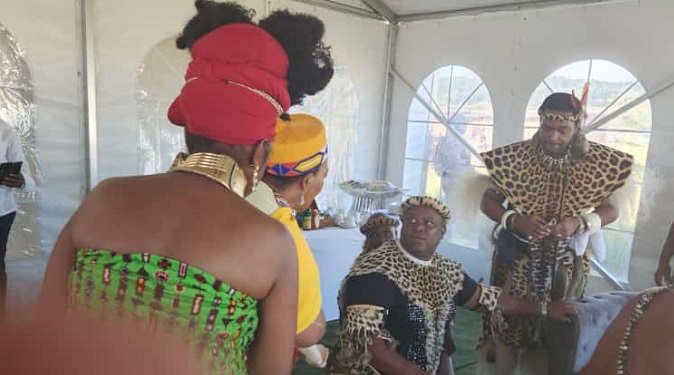 The Sunday News
Vusumuzi Dube, Online News Editor
INDUNA Thulani Mgoqo Jubane was recently introduced to the AmaZulu nation as the Chief of ABAKWAMZILIKAZI in South Africa by Prince Thulani Zulu, a spokesperson of His Royal Majesty, King Misuzulu kaZwelithini.
His introduction came immediately after the commemoration of 144 years since the historic Battle of Isandlwana, a first major encounter in the Anglo-Zulu War between the British Empire and the Zulu Kingdom.
The Zulu King and his Monarchy identifies Zimbabweans residing in South Africa as AbakwaMzilikazi.
Over the years, Chief Jubane whose jurisdiction falls under King Misizulu has worked tirelessly in uniting Zimbabweans and South African citizens.
"Our task is to serve the King as his people," said Chief Jubane who hails from Chief Sigola area in Matabeleland South.
"As AbakwaMzilikazi here in SA we are pleased to have been considered into serving under the able leadership of King Misuzulu. He is a leader with a great vision for Africans. He is a Pan-African leader who survives through respecting and appreciating all leaders and Africans across the continent. We are pleased that he recognizes and values Zimbabweans as his own people. This is what leadership is about, bringing all Africans into one basket and collectively developing them."
Across South Africa, the Zulu King has structures in place which are led by his indunas.
"We as AbakwaMzilikazi also recognize and respect the leaders which are deployed in SA by our government. We cannot operate in isolation; we respect their efforts and roles they play in building our country and their contribution towards a united Africa. We are not a separate entity, what the king stands for is what we stand for and subscribe to. We are the eyes and ears of the king when it comes to Zimbabweans in SA. We work for the king and report to the king and we need Zimbabweans in SA not to shy away but always come forward and work with us. The king is open to see development and growth of Africans," added Chief Jubane.
Hailed by Zimbabweans as a hands-on man, Chief Jubane is also known as someone who contributes towards well-being of fellow Zimbabwean citizens who are facing challenges in their everyday lives in SA. He also contributes to the well-being of some old citizens in needy.
Chief Jubane also committed to respecting all leaders from across Africa and working with them for a better society.
"We are not a political or affiliate of any group that is into politics. We embrace diversity and embrace any grouping that values and respect African leaders who are leading our societies from across board," he said
Last year, inkosi uMgibe we Ngonyama yakwaNdebele King Makhosonke 2 congratulated AbakwaMzilikazi for participating in uniting towards development of Africans.