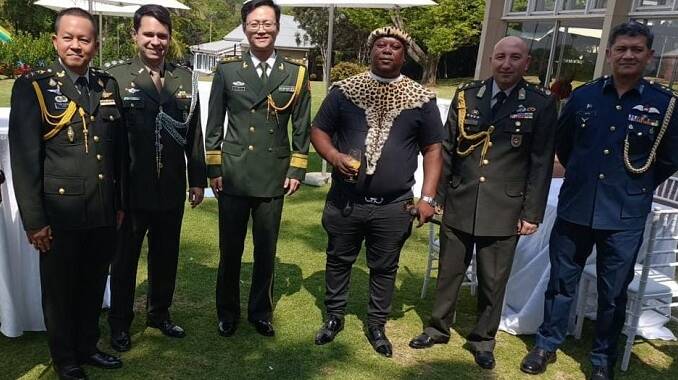 The Sunday News
Vusumuzi Dube, Online News Editor
South African based, Chief of AbakwaMzilikazi, Thulani Mgoqo Jubane has expressed his anger at "opportunistic activists and politicians" that are muddying and dragging his name on social for their political gains.
This comes after Chief Jubane recently attended a public meeting for Zimbabweans in South Africa where various issues relating to Zimbabwe Exemption permits, funeral policies and investing back home were discussed.
"As a Chief when we are invited by the people for programmes meant for their well-being we attend," said an irate Chief Jubane after some rogue opposition activists splashed his pictures attending a meeting for Zimbabweans in SA and claimed he is a member of their shoddy movement.
"I am very disappointed that at this age and time we have people who disrespect people to such an extent. As a chief, I do not belong to any political grouping. That must be respected at all costs. People must not take advantage of my kindness and fulfill their political ambitions. I want this clarified; I recently attended a public meeting where many Zimbabweans were invited as the agenda centered on the well-being of every Zimbabwean in SA. The suddenly I see my pictures in social media linking me to some opposition activists, this must stop forthwith. We will keep attending anything that has to do with development and growth of Zimbabwe and its citizens as our President H.E ED Mnangagwa always calls for unity and oneness for the sake of growth."
Meanwhile, Chief Jubane also applauded the Zimbabwean government and its security establishment for progressively steering the country forward and maintaining peace as the country moves towards hosting its harmonized elections on the 23rd of August. Chief Jubane was appointed as the traditional and cultural leader of Zimbabweans in South Africa by the Zulu nation leadership. The Zulu Monarchy identifies Zimbabweans residing in South Africa as AbakwaMzilikazi.
"We are impressed with the Second Republic as it has managed to make peace prevail for everyone countrywide," said Chief Jubane.
"It is never an easy task, but our government has managed to unite people and maintain peace at the same time. Working with Zimbabweans in SA we are pleased with how things are going though more still needs to be done. The President is an advocate of progress and development; it is our wish that fellow Zimbabweans contribute meaningful to the efforts done by our government. Yes, there are challenges in SA just like any other country, but we need to give credit where it is due.
"There are quite a lot of projects that the government has put in place progressively. This includes the new Beitbridge border post, the effective e-passport system and allowing various districts to issue identity documents, passports etc. There is also that Gwayi-Shangani dam project, refurbishment of roads, successful wheat project, re-engagement with international community, opening of political space among others," he added.
Chief Jubane also underscored an important role played by the security establishment.
"Our security service chiefs are also playing a vital role in leading their charges in maintaining and preserving peace. This we appreciate as Zimbabweans in diaspora. We are seeing peace prevailing despite that we are a month away from elections. In the past during this time a lot of reports involving violence would have been reported. But the president and his commanders have managed to unite people. We are pleased with this direction," he said urging Zimbabweans to always uphold the role played by the security sector, chiefs and war-veterans.