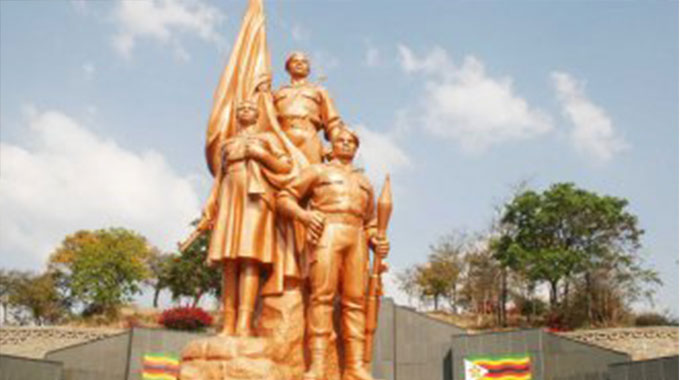 The Sunday News
Peter Matika and Mandla Moyo, Sunday News Reporters
ZIMBABWE celebrates the Heroes Day holiday tomorrow and the Defence Forces Day on Tuesday with calls for people to always seriously hold in high esteem the sacrifices made by gallant sons and daughters of this nation in the liberation of the country.
The holidays are marked by main speeches by the President while Ministers of State for Provincial Affairs will read the Head of State and Government's speech in their respective provinces.
For the Heroes Day, the main commemorations will be held at the National Heroes Acre in Harare while provincial celebrations will be held at provincial shrines found in each of the country's 10 provinces.
The main celebrations for the Defence Forces Day will be held at the National Sports Stadium in Harare while provincial celebrations will be held at various stadia across the country.
By yesterday, most provinces were making final touches to the celebrations.
Home Affairs and Cultural Heritage Minister Ambassador Cain Mathema said the holidays would evoke memories of the gallant sacrifices made by sons and daughters of Zimbabwe to liberate the country from colonial bondage. He also warned people who will travel during the holidays to be cautious on the road.
"Incidentally these holidays coincide with the closing of schools for the second term. As people travel from one place to another, there will be an increase in human and vehicular movements on roads during this period. My ministry is concerned with the number of road traffic accidents especially fatalities and criminal acts recorded during Heroes and Defence Forces commemorations," said Ambassador Mathema.
He appealed to drivers to exercise extra caution and ensure safety is maintained on the roads.
"Drivers should be safety conscious and take all necessary measures in ensuring that people are not maimed or lives lost due to bad driving conduct, which is contrary to the set road rules and regulations," said Cde Mathema. 
He said the major causes of accidents recorded by police indicate that most accidents were as a result of error and that police had since been instructed to impound defective vehicles.
"Therefore, drivers should not speed but be observant and cautious on the road, motorists should not drink and drive under the influence of alcohol and drugs to curb accidents. Public vehicles should not be overloaded. They should stick to the stipulations outlined on route authorities and road permit guidelines. 
"Drivers should not overtake where conditions do not permit to do so safely. Police have been directed to impound defective vehicles," said Cde Mathema.
He also urged parents to monitor and take extra care of their children during the holidays, as there was a disturbing trend of minors being sexually abused, while others engaged in drug and substance abuse.
"Criminals also take advantage of the holidays to break into premises whose owners would have travelled to commit unlawful entries and theft. They target travellers to rob them of their valuables, therefore let us be all vigilant and report crime to the police," said Cde Mathema. 
He also said his ministry was concerned with the rise in murder cases as a result of petty disputes that arise out of beer drinking and domestic disputes.
Meanwhile, speaking during their final rehearsal at White City Stadium in Bulawayo, Zimbabwe National Army Bulawayo District Administration Officer Grade Two (ASO2) Major Ndodana Msipa said preparations for the two events in the city were going on well. He was accompanied the Minister of State for Bulawayo Provincial Affairs Cde Judith Ncube and other top security commanders in the district.
"Preparations have been put in place, we are at an advanced stage, we hope all those who are going to attend will be satisfied by the activities that have been lined up as part of entertainment.
"We have lined up a number of activities, as the Defence Forces we are going to conduct drill displays, we have lined up soccer as well as netball matches among other activities set for the days," said Maj Msipa.
According to the programme seen by the Sunday News soldiers will march from West Commonage Police Station to White City Stadium on the Defence Forces Day.
The Minister of State for Bulawayo Provincial Affairs Cde Ncube will then read the Presidential speech which will be followed by the drill displays.
After that a number of entertainment activities will follow.
In Matabeleland South, Provincial Affairs Minister Cde Abednico Ncube said the province was now ready to celebrate the two important days.
 "We call upon the whole nation to come and celebrate with us as we recognise the sacrifices that were made by both the living as well as the departed, some who even died on foreign land while fighting against oppression," said Cde Ncube.
Similar celebrations are also expected in Matabeleland North.