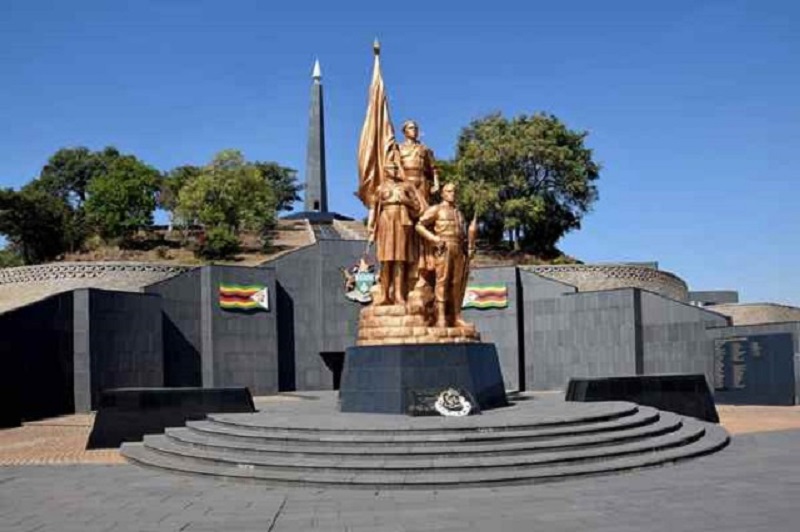 The Sunday News
Sydney Kawadza, Mash West Bureau Chief
ALL is set for the burial of career diplomat and national hero Cde John Chimbandi at the National Heroes Acre today.
Cde Chimbandi, born Caston Chibanda, died at Arundel Hospital in Harare on Saturday last week and was declared a national hero after the Zanu-PF Politburo unanimously agreed to bestow him the status.
He was 67.
Cde Chimbandi's body was yesterday flown to his Cloverly Estate Farm in Banket where several speakers described him as a loving man who united the people of Zimbabwe.
His remains were later flown back to Harare on an Air Force of Zimbabwe helicopter where it will lie in state at One Commando Barracks before burial today.
Family spokesperson Mr Lawrence Chibanda said the family had lost a pillar of strength whom they depended on whenever they were in need.
"We looked up to him to assist us whenever possible. Most importantly, I would like to thank Government for what they have done for the family, especially on bestowing one of our own with the national hero status," he said.
"The status bestowed on John is also an indication that we as a family have done well in nurturing someone whose name is part of Zimbabwe's history."
Cde Chimbandi's daughter, Anna, described her father as a humble man.
"He was a simple and very humble man. Everyone that got to know him experienced that humility he had. He accepted everyone as they were.
"Although he had friends in high places, including presidents and diplomats, you would still find him every day, after work, sitting with the workers and sharing drinks," she said.
Deputy director of human resources in the Ministry of Foreign Affairs and International Trade Mr Elisha Karodza described Cde Chimbandi as a mentor.
"We have lost a hero and a mentor. He contributed to the growth of the Ministry of Foreign Affairs and the mentorship we got helped us grow in the ministry.
"We were surprised to hear that he had been declared a national hero, but it actually shows what a great but humble man he was."
Prominent Banket farmer Mr Duncan Miller said Cde Chimbandi as an astute farmer who was determined and committed to the success of his farming ventures.
"I first met John Chimbandi at the Reserve Bank in 2003 and almost 10 weeks ago, he came to me saying he wanted to drill a borehole, but I told him he would not find any water.
"However, he did find the water and got a tank. He had finished building the house for the family, but he is now not here.
"He served Zimbabwe very well from China, Germany, Iran and Mozambique and it's no wonder that he is a national hero."
Cde Chimbandi was born on 1 October 1,1951 in Zviyambe, Wedza.
He attended St Anne's Mission Goto, Wedza and Ranche House College in Harare for his secondary education from 1964 to 1969.
After school, he proceeded to Botswana where he acquired a Bachelor of Political Science degree at the then University of Botswana, Lesotho and Swaziland between 1969 and 1971.
He started his career as a school teacher in 1971 at Muchudi Secondary School in Botswana, and in 1972, as the war intensified back home, he traded the comfort of urban professional life for the liberation struggle.
Cde Chimbandi received his military training in Tanzania and was deployed to the war front in 1973.
He rose through the ranks to the position of Field Operations and Camps Political Commissar in Mozambique in 1974, a position he held until 1976.
From 1977 to 1980, Cde Chimbandi was the chief representative of Zanu-PF for East Africa in the then Organisation of African Unity (OAU) Liberation Committee in Dar-es-Salam, Tanzania.
He joined the then Ministry of Foreign Affairs at Independence in 1980, as an assistant secretary.
Cde Chimbandi was the ministry's institutional liberation expert as he co-ordinated Zimbabwe's policy on all liberation movements in Southern Africa, including the African National Congress (ANC), the South West African People's Organisation (Swapo), and the Palestinian Liberation Organisation (PLO) in the 1980s.
In spite of a health setback that semi-paralysed the left side of his body, Cde Chimbandi had an illustrious career in the ministry that saw him serving as deputy director at Head Office and Minister Counsellor in West Germany (1990-1996), China (1998-2002) and Iran (2004-2011).
He is survived by his wife Leocardia Evernice and three daughters — Anna, Tendai and Amanda.