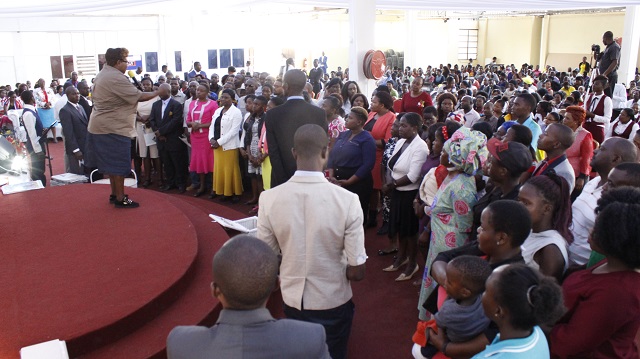 The Sunday News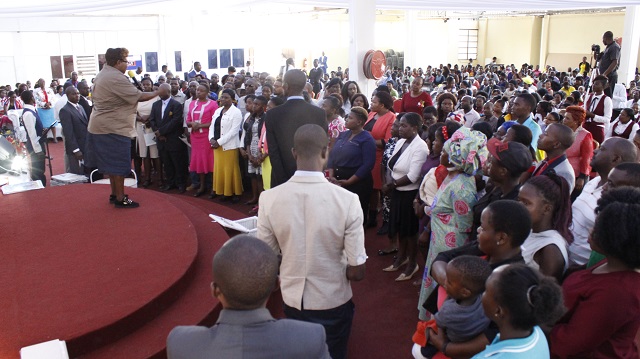 Franklin Chikwanda
AS is tradition during every service Apostle L Bwanya asked if there were any new comers among the congregants and many raised their hands and they were asked to come the front. More than 50 newcomers made their way to the front of the church at which point there was celebration, ululation  and clapping from the rest of the congregation, a typical Spirit Filled International Ministries welcome who clearly understand that if Heaven celebrates when one person receives Christ, imagine the jubilation when they are more than 50.
Usually the executive greet and welcome newcomers but this Sunday was different.
The apostle said she was personally going to greet and welcome each newcomer. During the meet and greet session she prophesied to some of them as the spirit of God compelled her. From the prophesies she gave to the newcomers a few stood out, one of them was of a man whom Apostle Bwanya asked  where his wife was.
Everyone at SFIM knows that when the Apostle guided by the spirit asks a spouse where the other spouse is, it is usually a sign of a spiritual challenge within the relationship or union.
The man who works in Botswana confirmed that indeed there were many  challenges with his wife and that they  were on the verge of separating as things were not well in their marriage. He proceeded to tell the Apostle that his wife had pleaded with him to come to Spirit Filled International Ministries in the hope that God through Apostle L Bwanya intervenes in their situation. When asked a second time where the wife was it turns out she was also present among the congregation, a clear sign that she was not a newcomer.
The Apostle asked the wife to come and join her husband in front. They were asked to join hands and as they did the Apostle prayed and declared healing and restoration in their union.
According to the prophesy from Prophet Ian Ndlovu, God intends to make Apostle Bwanya prominent in Intercession Prophesy Deliverance Healing and  Restoration and with this couple the gifts of prophesy, deliverance, healing and restoration all played a role in repairing what the forces of darkness had broken, as the Word of God says the thief came to kill, steal and destroy, and true their happiness had been stolen with intent to kill and destroy their marriage, and the Holy Spirit guided Apostle Bwanya to restore life into their marriage.
Moving in the same prophetic realm another lady was asked where her husband was and she replied that he was in South Africa and not only were they separated but that he was now with another woman.
As she broke down and cried another lady came running to join her and said she was the sister, and she was in a similar situation in which her  husband had also left her, a clear sign of an anti-marriage spirit tormenting the same members of one family. Apostle Bwanya prayed for them and declared the mercy and grace of God to reign supreme in their challenges.