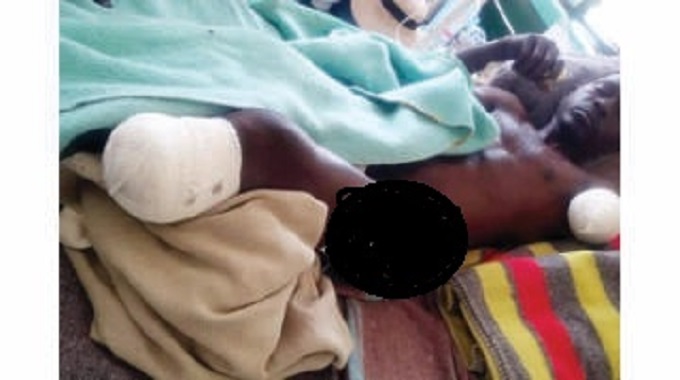 The Sunday News
Rutendo Nyeve, Sunday News Reporter
JUMPING from the frying pan into the fire is an apt description of an incident involving a Binga man who escaped death but was left with an arm and leg amputation after being attacked by a crocodile while allegedly running away from a charging elephant.
Winders Sianene (34) was attacked by a crocodile as he tried to run away from an elephant. Mr Sianene is said to have seen the charging elephant on his way to Mlibizi River where he was going for a fishing expedition.
Mr Fanikiso Mkombwe, brother to Sianene confirmed the incident to Sunday News.
"Winders was on his way to Mlibizi River when he saw an elephant charging towards him. It was then that he decided to run and jump into the river trying to evade the elephant. Unfortunately, he was attacked by a crocodile in the process. He was going to do fishing in Mlibizi River. He has since been admitted to Mpilo Hospital while his leg and arm have been amputated," said Mr Mkombwe.
Zimparks spokesperson Mr Tinashe Farawo also confirmed the incident and warned the public to treat every water body with caution.
"It is an unfortunate incident that a Binga villager was left disabled after being attacked by a crocodile. We are encouraging people to stay away from water bodies and treat them with caution. People should desist from fishing in these water bodies as they might be infested with crocodiles," said Mr Farawo.
Meanwhile, Victoria Falls-based poet, Obert Dube has donated a wheelchair to Mr Sianene through his wheelchair donation programme. Human-wildlife conflicts have been on the rise resulting in numerous injuries and deaths countrywide. [email protected]